Walter Scott Houston got me started collecting old astronomy books a couple years ago. One of the books he mentions that "taught his generation and the one before it to appreciate the heavens" was Pleasures of the Telescope by Garrett Serviss. After searching for about a year for the "infamous nymph" 1st edition I finally found myself a copy in really great condition.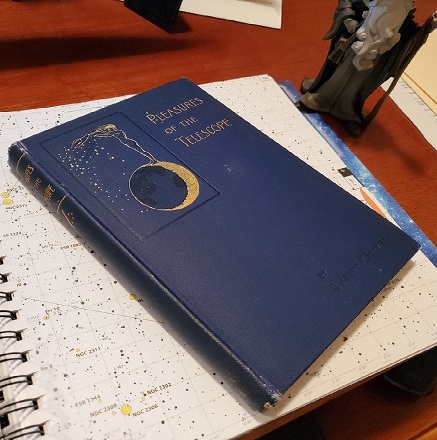 I posted my good fortune over in the Vintage Astronomy Books group on Facebook where there was a pretty interesting discussion about the catalogs that Serviss used in his book. Since the book was first published in 1901, Dreyer's New General Catalog apparently was not generally available and the most popular catalog for DSOs was still John Herschel's General Catalog published in 1864. So, it's not too much work to reference the NGC (which lists the older GC numbers) and find the designations that are used today.
A "star" labeled "45" was pointed out on Map No. 1 very near α Lepus. The star is actually multiple and first seen by J. Herschel and given the number h3780. It also has the designation NGC 2017 and is identified as a Cluster of Large Stars in that catalog.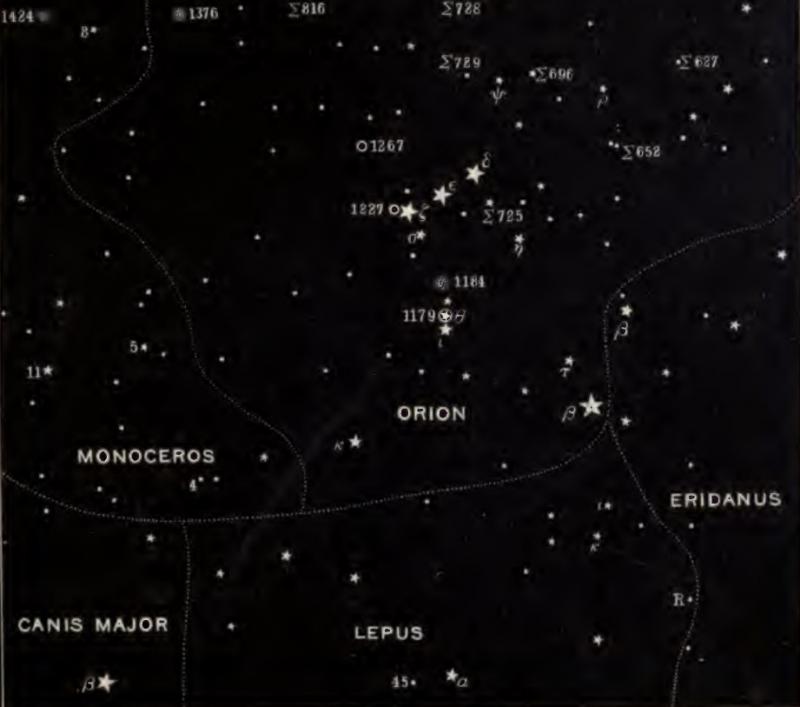 h3780/NGC 2017 is mentioned in many observing guides. I see it labeled in my copy of Norton's 16th edition, and it's in Burnhams, the NSOG, Star Clusters and a couple nice posts here on CN. It's not listed in Webb's Celestial Objects or Smyth's Bedford Catalog. It's on my observing list now, but I've never seen it.
The challenge with this object was to figure out where the "45" label came from. In the Facebook thread, it was suggested that the label was from an old book called Allgemeine Deschreibung und Nachweisung der Gestrirne by J. E. Bode. I found a copy of this book online but only found a single star listed within Lepus and it didn't sound like the one I was looking for (even though I can't read German).
Serviss mentions S. W. Burnham quite a bit in the book and so I thought that was perhaps a better place to start looking. In his book A General Catalogue of 1290 Double Stars published in 1900 (one year before Pleasures), he mentions Leporis 45 at the correct location and gives it his catalog name β 321. Burnham didn't assign this multiple star multiple names, so Leporis 45 still must have come from somewhere else.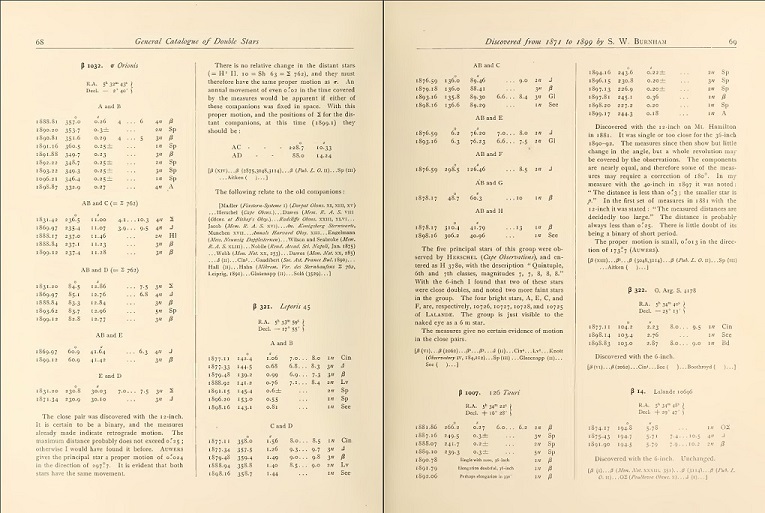 Burnham's A General Catalogue was a compilation of previous catalogs that he published over the years 1871 to 1899. β 321 was first mentioned in his 6th catalog, published in 1875. In that catalog, he mentions that the star is included in the Atlas Coelestis Novus by Dr. Eduard Heis and published in 1872. I found a copy of this book and discovered that the star numbered "45" did indeed exist in this catalog. The catalog page includes other designations for stars in Lepus, but there were no others for this particular star, so this was likely the first label given to it. EDIT: The L.L. designation is from the Histoire Celeste Francaise by Jerome Delalande, 1847.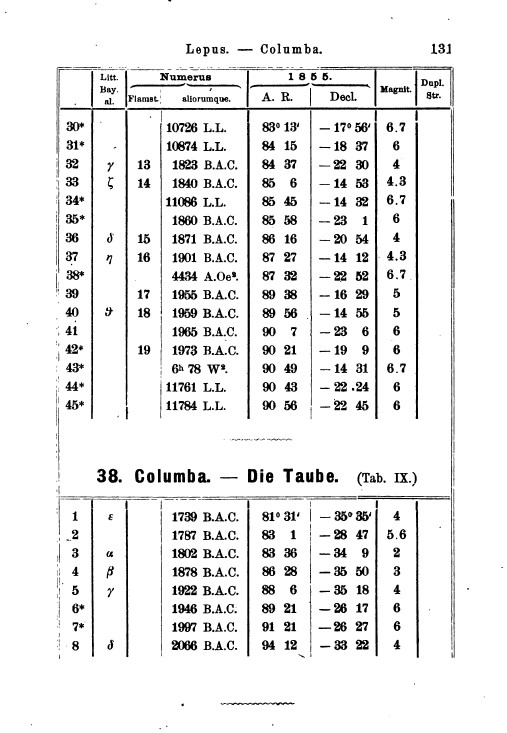 I would imagine that Mr. Serviss was aware of this star from Burnham's work - probably from a copy of the 6th catalog from 1875. Why Serviss didn't use the β 321 or h3780 label I have no clue. Heis does not mention in his catalog that the star was multiple, so I don't believe Serviss got the reference directly from there since he points this object out because it's such an interesting group.
Anyway...I just wanted to share this little bit of history for this great old book. To me this just expresses how deep this hobby can go - even when the clouds roll in and beautiful Luna blots out the dark skies...
Edited by brentknight, 26 February 2021 - 02:24 AM.