Hi all,

I saw this somewhere else and thought it would be interesting/funny to see this in AP section of amateur astronomy.

So,

1. How old (or young) are you?

2. How many years (months/days/hours/seconds/femtoseconds) have you been imaging? (could include all types of imaging, whatever you want)

Yes, it's a cloudy night and I'm bored. If it catches on then great if not then meh... another silly topic.

Maybe I'll make a histogram with stats at the end.

** If you want to tell a bit about how you started and what gear you used first and what you use now then go ahead!

*** Okay, someone pointed something out to me, so here is a clarification:
This is purely for fun. The data here is not being used for anything. No conspiracy theories please.

Let the polls begin!

-----------------------------------------------------------------------------------------------------------

128 members so far. Keep going! (now added the experienced imaging forum as well)
Average age starting to image: 42.1 yo
Average years of imaging experience: 10.3 years.
Total imaging time:

1324

years.
Our current youngest is 15! yo, while our current "not that young" is 84! yo.
Youngest to ever start is

10.5

! yo, while our "not that young" to ever start is 75 yo.
The least experienced is 0.002 years
The most experienced is 60 years!
Check out our "outliers"! We got some nice diversity here.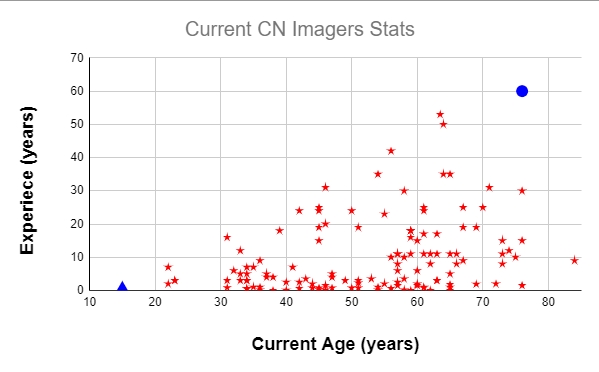 Histogram of what age did people start imaging.