Hello All,
I'm starting my research and prep work to do some planetary imaging this summer. I am looking to get Jupiter, Saturn, Uranus, Neptune and Pluto. My setup is a carbon fiber C9.25 with a Siebert 1.5x Barlow. I was happy with the below pic of Mars I took during opposition, so have a real bug to go for the others. I think I have a battle plan with Jupiter and Saturn. I'll work on Venus and Mercury next year as these have their own set of difficulties I'll tackle then.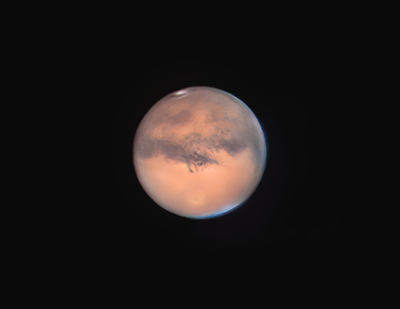 This question concerns the outer planets. Neptune, Uranus and Pluto.
My Equipment:
3 cameras, ZWO 2600MC-Pro, 290MM mini and the 462MC.
Carbon fiber C9.25 with moonlite motor-focuser and a Siebert 1.5x Barlow resulting in F/15 @ 3525mm
I would like to image these outer planets but am looking for some tips on how to approach each.
I'm thinking Pluto might be best after a perfect alignment (so my goto will be spot on) using the 1.5x barlow (3525mm) and doing 10 second subs with the 290mm mono. Am I thinking correctly here? I would really like to try to get a tiny infinitesimal little ball, but is that really doable? Or should I be doing 10 seconds with the 2600MC no barlow and keep it wider field? I'm not sure how difficult this actually may be...
I will use the 462MC for Neptune and Uranus to get some color, but any advice on imaging these? Is planetary rotation and video length not a factor here as with Jupiter, Mars and Saturn. Do I do 5 min vids or 20 on Neptune and Uranus? Do I stand a ghost of a chance of any detail here that this is a factor?
The above could be all wrong these are just some plans rolling around in my head. Not sure how to approach them. I guess that's what I'm looking for, advice on how to get better results with the outer planets. Any help would be appreciated, especially with the Pluto conundrum

Regards
Skyhunter1
Edited by SkyHunter1, 26 February 2021 - 11:48 PM.