A while ago I wrote about my FSQ-106ED having astigmatism, showing as elongated stars across the field whenever focus is not perfect. Tak America deemed it as within spec and refused to further service it. I was able to improve it a bit, but it kept bothering me and I sold it and then got a new FSQ-106ED.
And the new one also has astigmatism... Using the WavefrontEstimate script in Pixinsight, it is confirmed to account for 19.3nm of rms wavefront error to total amount of 23.8nm, bringing the Strehl to "only" 92.4. As you can see from the defocused stars there is a 90 degree rotation going from intra to extra focus. It is also directly mapped in the wavefront error plot.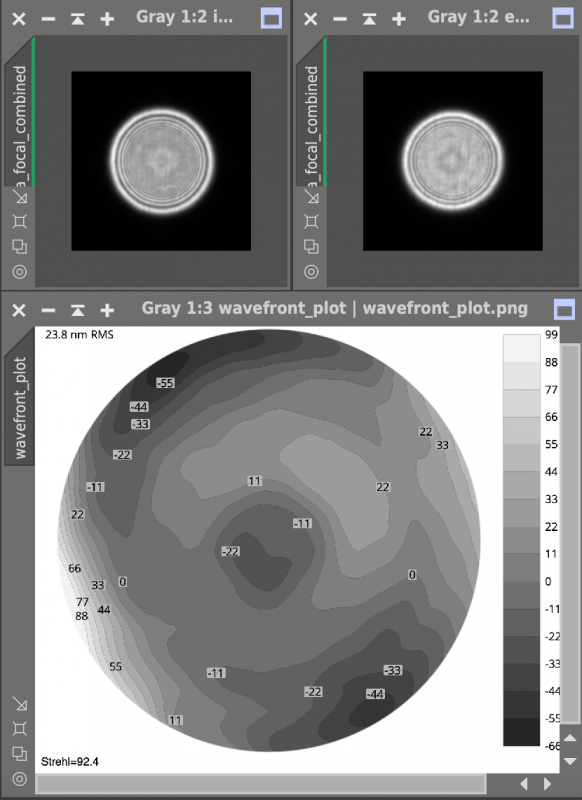 In a star field, the center of the field is fine, but at some certain corners the elongation is rather noticeable.
In addition, there is also coma everywhere, showing as non symmetric elongation of stars. I tried to collimate the scope myself using the three sets of push-pull screws on the front lens G1. It is easy to reduce coma, but astigmatism changed very little. Astigmatism does not occur for rotational symmetric optics, so it means there must be a misalignment in G2.
Being a theoretical physicist I decided to get to the bottom of it. I learned about these wavefront aberrations and did some derivation myself: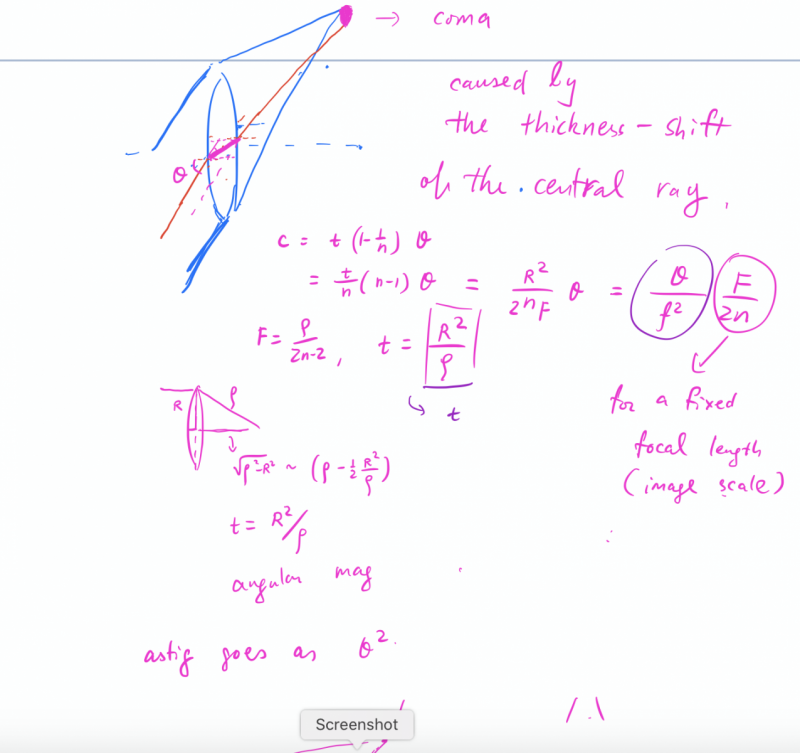 Now I understood the physical origin of coma and astigmatism. I came up with a theory what exactly is happening.
it turns out the G2 lens is de-centered. This itself introduces both coma and astigmatism. Using the three push-pulls in front, the G1 lens can be tilted in the direction of G2 decentering. This also introduces coma and astigmatism in the same direction. In both lenses, the coma is the main effect. When carefully adjusted, the coma on G1 and on G2 can be exactly canceled. However, astigmatism is an "even" effect. This means the small amount of astigmatism are of the same sign and always add up. (In principle, one could tilt G1 in a perpendicular direction as the G2 decentering to cancel astigmatism, but this would not have canceled coma.)
This is why Astigmatism is so hard to eliminate -- one has to make sure *every* element is perfectly centered and astigmatism free. For a petzval design with four lenses, it is no wonder why so many scopes have some astig. Even if they are precisely aligned in factory, shipping can easily mess things up. It has very tight tolerance for error.
(I will write in the next post about what I did to improve.)
Edited by pathint, 27 February 2021 - 07:04 PM.