Hi, I'm Byoungjun Jeong from RainbowAstro.
First of all, I would like to announce the news that my company (RainbowRobotics) has been listed on the Korean stock market (KOSDAQ).
We have an opportunity to grow into a bigger company.
We have eliminated the need for counter weights in our previous products (RST-150H, RST-135, RST-300).
This time, the need for an auto guider system has been eliminated.
Renishaw encoder have been added to the RST-135.
As a result, the periodic error is +-2.5 (peak to peak 5)arcsec and the period is 430 seconds.
This is a performance that can be unguided astrophotography at a focal length of 500mm.
We focused on adding a high resolution encoder but not changing its size and weight.
The new mount still has almost the same size and weight as the RST-135.
Product Name: RST-135E
Weight: 3.4kg (0.1kg increase compared to RST-135)
Appearance: same as RST-135
Price: 5,495 USD
Release Date: Delivery starts in May
Promotion: 250 USD discount for reservations made before April 30
Expected Questions and Answers
1. Is RST-135 discontinued?
No. The RST-135 and RST-135E will continue to be sold as separate products.
2. Does this support auto guide?
Yes. Support. Auto-guided performance is similar to that of RST-135.
3. Who needs this?
For those who are bothered or afraid of the auto-guide system
Those who mosaic large areas overnight
Those who need to reduce the weight and volume of equipment for mobile observation
4. Is it possible to upgrade RST-135 to RST-135E?
Sorry. Unfortunately, it is not possible to upgrade.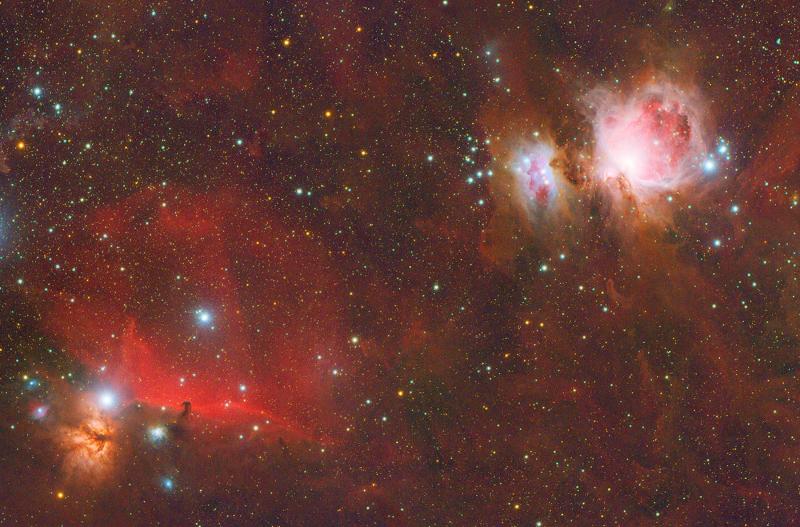 High resolution link - https://www.astrobin...g2e89l/?nc=user
Telescope : WO Redcat51 (fl250mm)
Camera : ASI2600MC
Exposure : 5min x 21
Unguided
No flat, dark, bias
I took 21 five-minute exposures, and I didn't throw away any of them.
You can download the original fit files from the following link.
https://drive.google...ohk?usp=sharing
Edited by xuranus, 01 March 2021 - 11:51 PM.