Hello sketching friends !
I had the opportunity to observe the small planet just at the good time.
I mean :
the day of opposition
the time to observe close to the meridian
the weather with a stable atmosphere
I also used a good "slow telescope" I think the best one for this type of observation: a f15 Mewlon and some good eyepieces are the keys for this observation.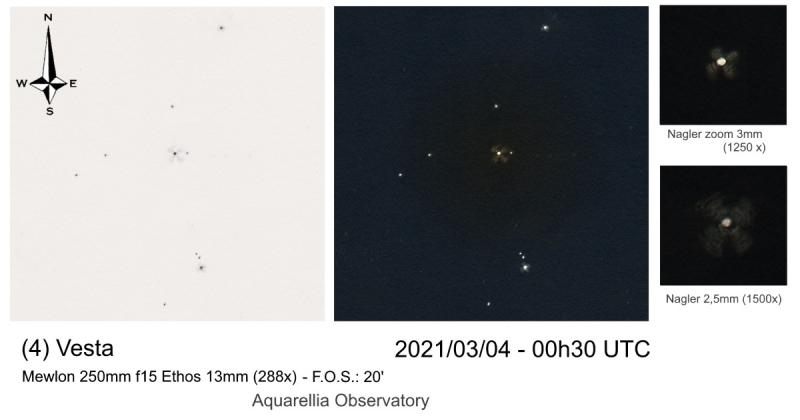 You can read a very good summary of what we now about this small planet, writen by Bob King for Sky and Telescope here:
https://skyandtelesc...to-visit-vesta/
Don't hesitated to have a look, a sketch is included

!
As eyepieces I used only TeleVue's: a 10mm Delos, a 13 mm Ethos and a 3-6mm Nagler zoom as well as a 2.5mm (6) Nagler
The best view was the one with the zoom on 3mm
The 10mm Delos (375x) show me already that the shape of this object was not a star, but that was the limit.
The view with the Nagler zoom fixed at 3mm was the best view, maybe because when using the 2.5mm the sky was not so stable.
The observation gives me two information, the first one is that the shape of Vesta was not a pin point like a star, I was wondering if I was not able to see that the disk was not perfectly cirular, but I know it's probably impossible.
The second info is related to the color of the little planet, I see that as clear Napoli yellow, in french Jaune de Naples,
here the value from my Winsor & Newton watercolor pallet that I use:

It's funny to observe such a small object, so far and lost in our huge stellar system.
Clear sky and virusfree to you all
Michel