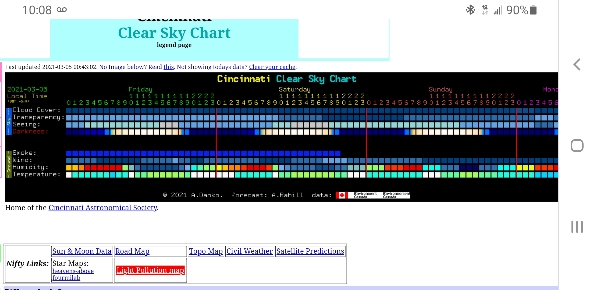 Been like this since Monday! Don't get it! Even recieved two peices of equipment this week! Still no clouds! Something ain't right!

But I've taken advantage of every night so far and will until I can't. Finally broke a dry spell of doing almost nothing for months(clouds, tired, not feeling it, etc.).
Have done nothing but image M42 as right now it is in the one part of the southern sky in the early evening that's not obstructed. Only have about 2-3 hours from trees to trees! Been doing different exposures/gains to get a feel of what results to expect and have learned a bunch just this week!
One thing I've really learned is patience and put in the time. Until now, when I have is imaged, I seemed to be all over the place. Capture this one night, that the other night. Work on this, work on that.. and end up with a mess of files and a scattered brain!


Wife will ask, "is it going to be clear tonight?"
"Yep!!"
"Great....."

Nah, she's good with me staying up a bit. Knows I've been waiting on some clear skies! She just falls asleep on the couch.
Guess my one bit of advice for others just learning things, or have been for a while, is pick one object and concentrate on it for several days instead of being all over the sky! Getting to know what results different exposures, etc. produce in the end has taught me a lot.
Hope by the time I pick and choose through and process all I've got I will get to have something I feel I would be proud to hang on the wall!
I hope anyone near me that is expecting equipment delivered in the next couple days has their package delayed!