I wanted to have a better way to get my scope set up outside without having to haul down multiple containers in multiple trips. I live in an apt complex so bringing the scope to the common area and leaving equipment there for several minutes while I make the next trip isn't a thing.
I bought some fully locking casters that could replace the metal points on my Berlebach Planet. That worked pretty well, but the casters were often too large for travel and I prefer the points when on desert ground. Also, screwing and unscrewing them was doing a number on the threads on the tripod. I thought it was 3/18 16 threaded (used a die to confirm), but may have been wrong. I got the points screwed back in tight and figured I'll find a better use for the casters.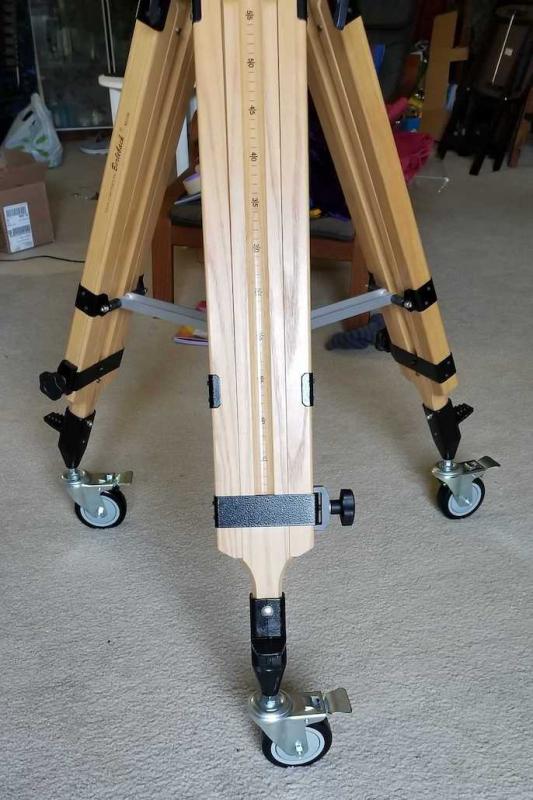 After some time, I looked around and saw some nice DIY buggies on this site, so tried to come up with something. It had to be strong enough to hold about 250lbs: The planet, Mach1, 23lbs of weights, the AT90EDT, ST80 and all the rings and imaging gear. A TEC140 is coming later this year, so it should support that too. Oh and also a 100Ah deep cycle battery. The casters hold 300lbs a piece, so that's covered. I live in a 1bdr apartment so folding up or coming apart for storage would be really awesome.
I didn't want just another large plywood triangle (storage), and I wanted it to look kinda cool. Interestingly, I had been recently playing around with Gravity Sketch VR and had recently designed a nice little camping/shade structure set up with it. I figured I'd try to design this in VR too just for kicks (to absolutely no degree of accuracy mind you) just so I could get a feeling for what this thing would look like and how big it might be. It was actually pretty fun and worked out pretty well. I had my idea ready to build!
The original design was using a 2x4 cut into 3 pieces and part of a solid wood shelf. I'd balance the weight of the battery against the weight of the scope, with the casters just inside the tripod legs. I'm sure it could be better engineered, but I was being lazy here. I don't think there's that much in it.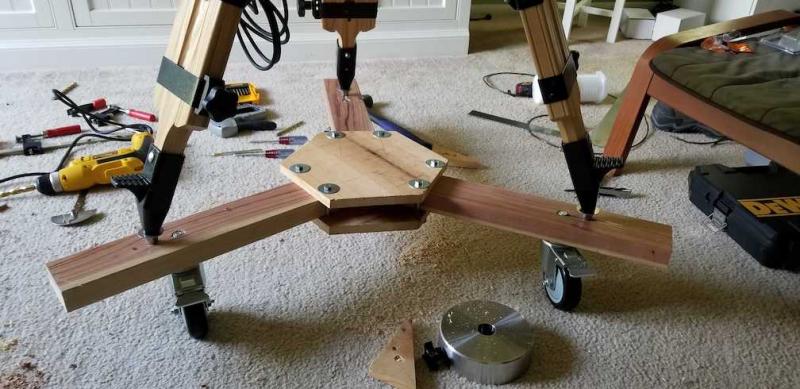 This worked out well enough, but for only about 5 minutes haha!!
It held the weight ok, but as soon as I scooted it around on the carpet in the apt it started creak a little. It required more force to push than you'd use on a hard surface but it should be able to handle the forces. Because I made the mistake of not drilling holes big enough for the points, they acted like wedges and one of the legs split when I was pushing it around. Whoops! I had to unload things quickly!
Going back to the drawing board, and after getting some advice from a friend, I moved to using 3/4" plywood but keeping the general design. He suggested the large triangle, but I was curious to see if I could still keep the three legged design, except using plywood this time. A large triangle was just to boring for me. I made plywood legs, but the solid wood shelf part also split this time, so solid wood is now down for the count.

I was able to cut some extra center plates from the same sheet of plywood but they had to be a little smaller this time. I also messed up - in a somewhat favorable way - in that the bolts that I was using for the center plate were only threaded for the last 1". They were meant to provide space for 2x4s instead of 3/4" plywood. I had some plywood squares left over, so I used them as shims, but it also kinda gave it a nice little step coming off the center plate. I think it looks even better now!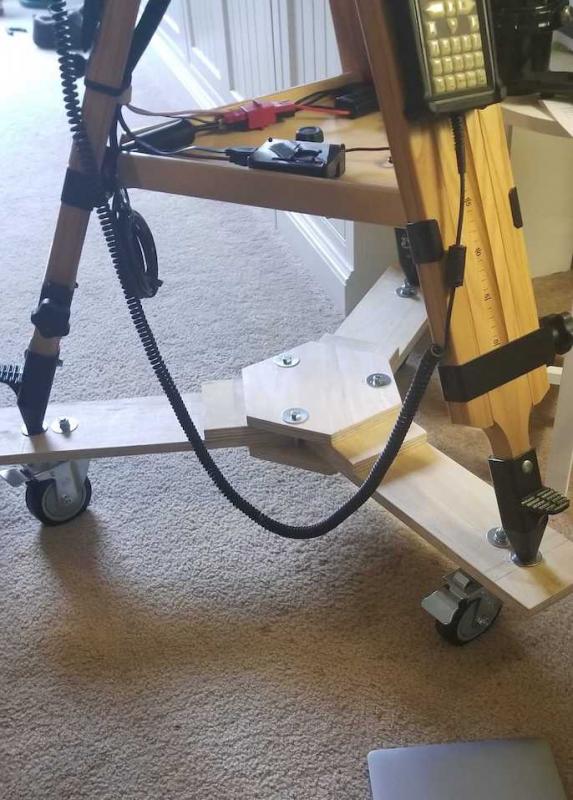 I also remembered to drill the holes for the spikes to be large enough that the weight is now carried on the spike's washers to avoid any kind of wedging type forces. I was being hasty and didn't realize that now that the board is only 3/4" thick and the spikes are 1" long; they now stick out of the bottom by 1/4" DOH!. Normally this isn't an issue, but the casters wouldn't swivel fully because of the point sticking through. Getting things through hallway doors and onto the elevator wasn't as easy as it could be. Fortunately some spare plexiglass did the trick (I knew there was a reason to save a piece of 13x3" plexiglass for like 5 years - I made sure to point that out to the wife).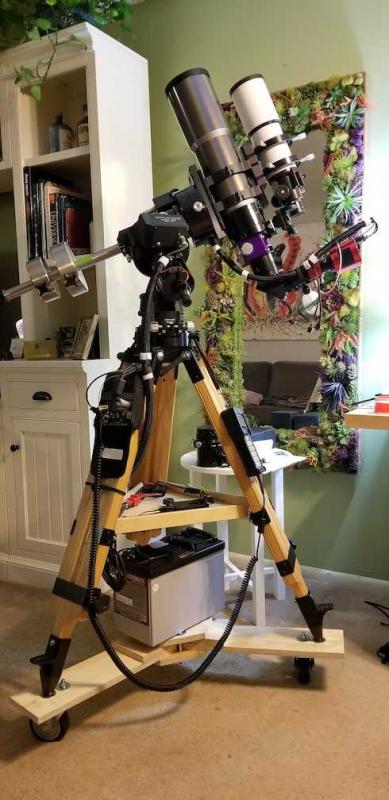 After moving things back and forth from the apt to the courtyard, I felt that I needed some metal collet or something so that the caster stem threads wouldn't chew through the plywood over time. I recently added some T-nuts to provide some additional protection. Last thing is the paint job, and I'm thinking something similar to this lighthouse. Stay tuned. In either case, I can leave this set up and simply roll it down there and roll it back, grab and go at about 150 lbs. Now if I could only do something about the light pollution!