Thanks again to the AAVSO for their Alert Notice 739, I was able to go out this morning and observe - incredibly - a third nova in binoculars! Designated V6595 Sgr, it is the second one discovered in Sagittarius in the last few weeks and easily outshines the other one (V6594 Sgr). Heck, it's only second to V1405 Cas in brightness! With my 8x56 binoculars, I was able to see all three of them within a minute -- a feat I've never done before.
I believe it was @j.gardavsky who was the first person to bring to my attention the red color of V1405 Cas in his post Nova V1405 Cas, and farewell to the winter nebulae before Easter Holidays. With 59x in my 130mm reflector, I found that it did indeed look orange.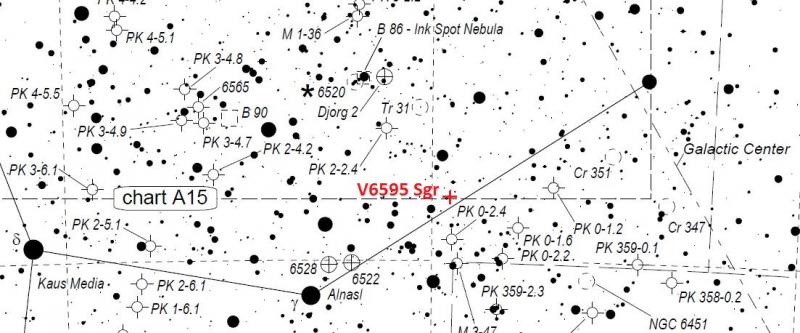 Map from Micheal Vlasov's excellent and free printable Deep Sky Hunter Star Atlas.
With the Moon gone from the morning sky, I hope everyone gets up a little earlier than usual to catch all three novas. And remember, four novas equal one supernova!

Scott