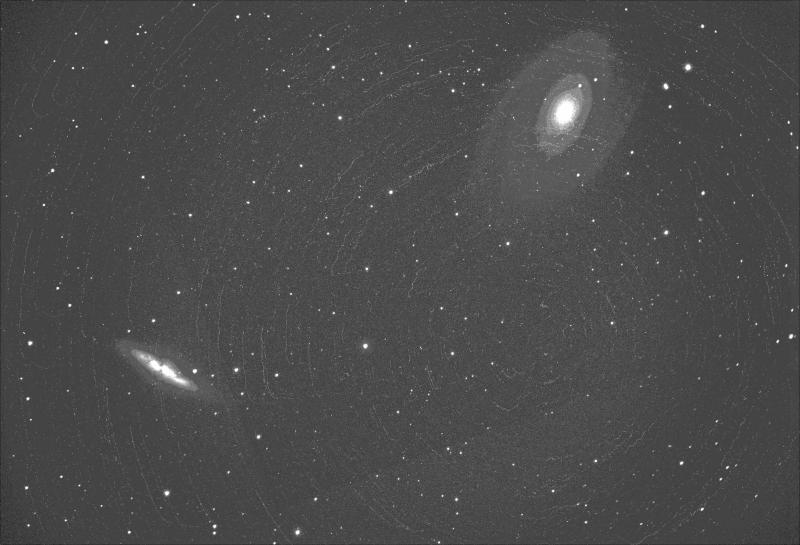 Hi, I've given bodes and the cigar nebula another shot and I definitely need some help, I have no idea what went wrong but I'm going to look into it more.
I used the same settings as I did a few days ago (gain 360, 14 second exposures, 80 offset) but this time it came out quite differently.
For some reason the color info was lost, and there is this weird spiral pattern on the photo. Also Bodes didn't come out well at all. I processed the photo to emphasize the problem not to make it look good.
My original thought for the spiral was field rotation but again I've taken many photos before which didn't have spirals under the same settings (and the exposure time is quite small). I am using an alt-az (nexstar evo 9.25 with the reducer) with an zwo 294mc pro.
I can't guarantee that sharpcap used exactly the same settings but I did load it from the same preset that I used before with much better results (though I think the color profile was on auto and I did notice that it was 35% red and 35% blue). Same gain , offset, and exposure time for sure and I think I had decent focus.
any ideas what I did wrong? I can also process it differently and have the weird spiral pattern come out in different colors so I'm wondering if the colors and the spiral are related.
I appreciate any help that you can give, I'm obviously quite new at this
Edited by jdono, 08 April 2021 - 09:13 AM.