I wanted to go back after the Rosette, 6 years after first trying to image this object. I planned a significant amount of time, and finally had a Todmorden pier in my backyard. I started in January, and finished collecting the 647 lights in mid-March. I've taken the Masters of Pixinsight series of classes that started last fall, so I was excited to apply what I learned throughout the previous 6 months. I did some test runs of processing (1st run was Jan & Feb data, 2nd was the March data), and then finally got the time to do longer run of the WBPP script using "all" the data. I ran Blink, eliminated ~20 subs for trees or tracking errors, then ran SubFrame Selector, and further winnowed the set down to 443 subs. 50 180s Darks, 50 5s Flats, and 50 5s Flat Darks were used. I finally had a master light to play with in PI and use the techniques gleaned from the MoP classes. In late fall I had done some test imaging using a newly-acquired Optolong L-eNhance filter, so I was excited to try this out on the Rosette. However, I used the filter on my AT115EDT, not the WO RedCat 51 I used on NGC2244. You can guess what happened next...that's right...I never swapped the L-eNhance over...and in fact, never used ANY LP filter...

. I live in a Bortle 7/8 suburban area, so I'd just collected over 34 hours of unfiltered data from a rather light-polluted back yard. I'm so embarrassed by that oversight...

.
So what you see here is 22.1 hours of OSC data collected over ~2 months' time, that's unfiltered. That's probably why I had a tough time with the stars (I did 2 runs of the EZ-Processing Suite's EZ Star Reduction, 1 Adam Block Method, and 1 Morphological Transform.) But all in all I'm fairly happy with this result, even if I'm ashamed to admit the big error that probably would have helped out quite a bit.
Thanks for reading, and I'm looking for feedback on the image (other than "Don't forget your filters!! - I got that one!).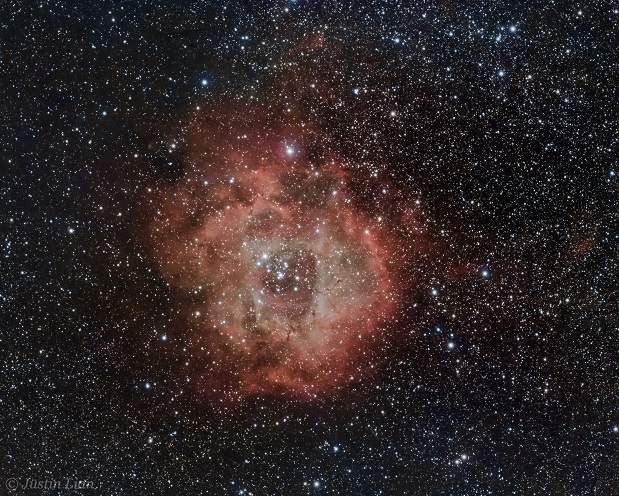 Here's the link to the full-size version:
Thanks!
Edited by N1ghtSc0p3, 09 April 2021 - 08:28 AM.