Greetings!
I received my QHY268M a couple of weeks ago but have only just now received all the other new equipment that I needed in order to start imaging with it. Hopefully, that can start tomorrow night.
In the meantime, I wished to characterize my camera by measuring the gain, read noise, full well capacity, dynamic range and dark current. The QHY website shows these specifications in plots for the four readout modes of the camera vs. the camera's gain parameter setting. I wanted to confirm whether or not my camera meets these specs. It turns out that my measurements show a deviation, and I thought this might be of interest to other owners of this camera. I invite others to test their cameras to see if there may be some variability from camera to camera in these specifications or if there may be a discrepancy on the QHY website.
I will be imaging in Mode 1 (High Gain Mode), at least at first, and so I restricted my testing to this mode. I varied the gain parameter from 0 to 100 in steps of 5 but used steps of 1 between 50 and 60 in anticipation of the camera's transition through these values. I cooled the camera to -10C, and I adjusted the offset as I changed the gain parameter in order not to cut off pixels. For the following results I used (mostly) the equations for basic camera characterization from Berry and Burnell, The Handbook of Astronomical Image Processing, Section 8.2. The results compared well with PixInsight's BasciCCDParameter script with the exception of the dark current, where the script version I used to check my results is known to be in error.
For each gain parameter value I took two bias frames, a dark frame with 60s exposure, another dark frame with 600s exposure, and two flat frames with peak illumination set at about 30,000 [ADU].
The first is a plot of measured gain in units of [e-/ADU] vs. the camera's gain setting.
The first thing I noticed is that in this mode I am not getting a gain of about 1 [e-/ADU] at gain parameter 0 as QHY's plot suggests. Instead, I am getting about 0.76 [e-/ADU] or so. Next is my measured full well capacity: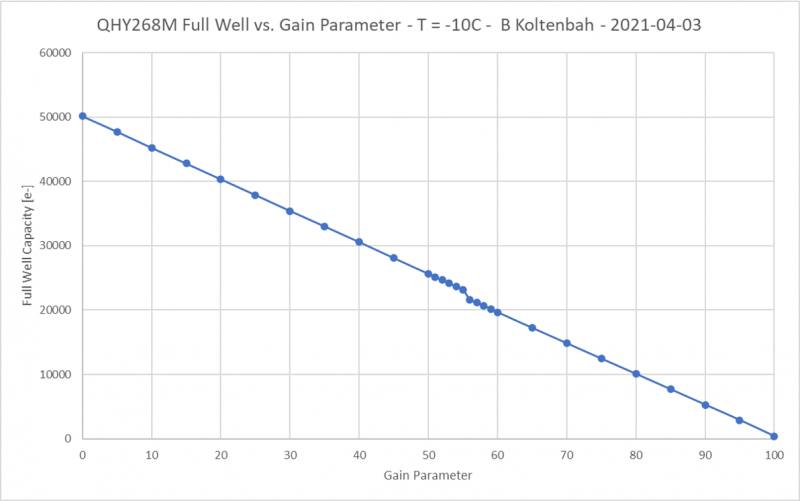 Due to my smaller gain, my peak full well capacity at gain parameter 0 is about 50 ke-, not the 62 ke- or so from the QHY plot. I note, however, that in the specification table, QHY lists two full well values, one at 51 ke-, the other at 75 ke- for extended full well mode. My value agrees quite well with QHY's lower full well from the table, which does not correspond with any of the peak values from the plots for any of the modes. I am unable to reconcile this difference on the QHY website.
Next is my read noise measure, which agrees quite well with the QHY plots: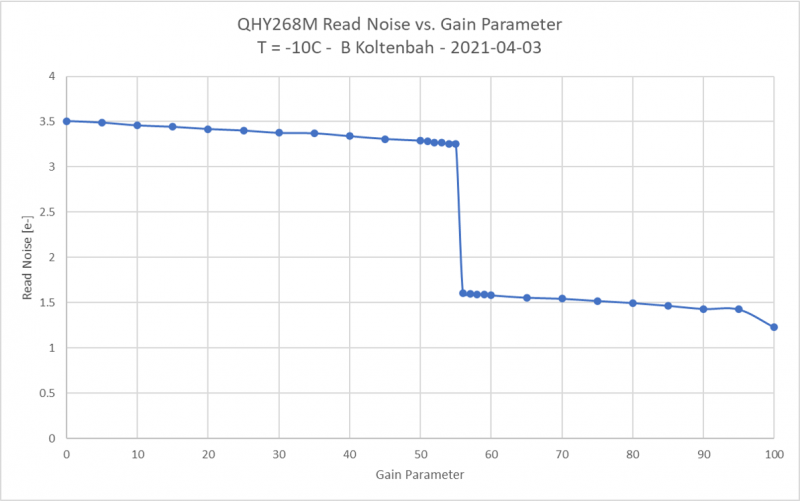 I only measured dark current at the -10C cooling temperature, although I did measure it at difference gain parameter settings. For the most part over my range of gain parameter values, the dark current was mostly constant, although the value dropped for large gain parameter values. I don't know what that means, but the more constant answer is about 0.0016 e-/px/s, which is just a little higher than QHY's published value of 0.0013 e-/px/s at this temperature.
Next is the dynamic range, which I plot three different ways: in steps, dB and stops. The last plot in stops agrees well with QHY's values.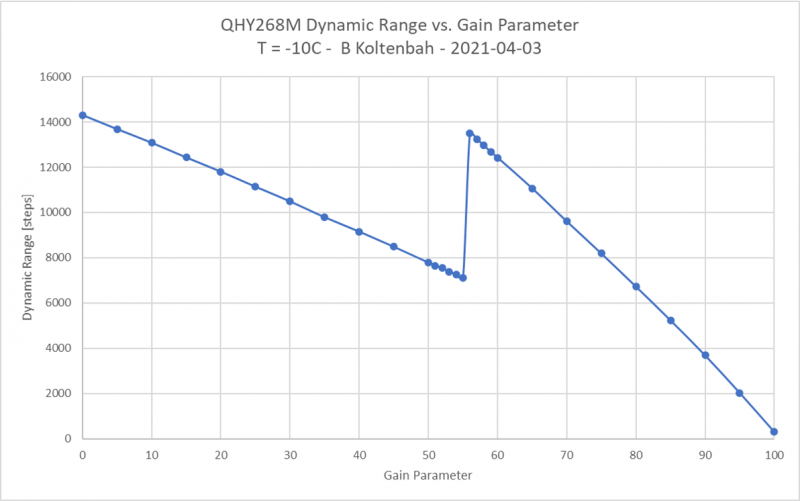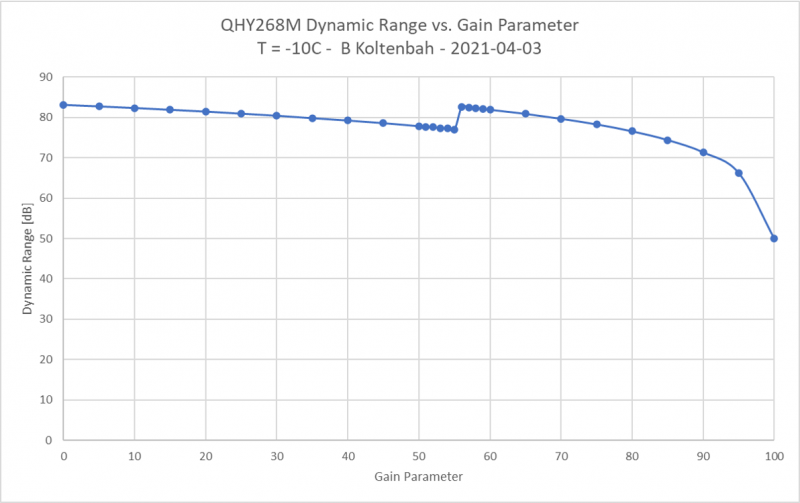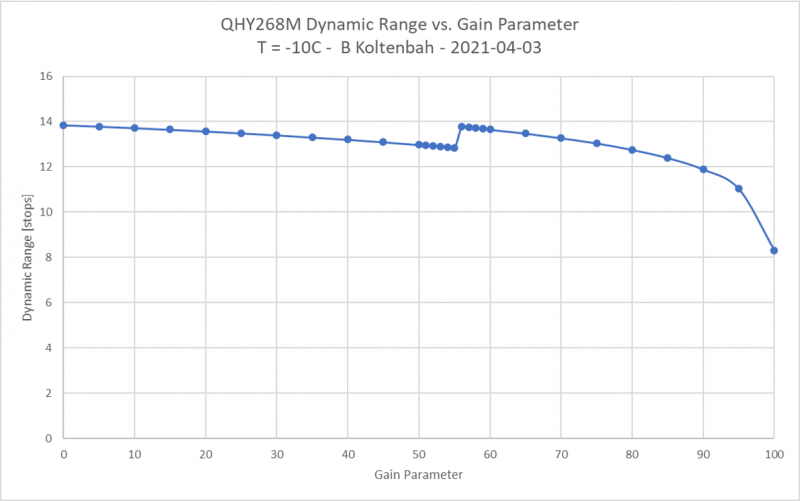 It is this last plot in particular that shows the interest many have expressed in operating the camera in Mode 1 with gain parameter setting of 0 or 56 in order to maximize the dynamic range. I look forward to trying this out starting tomorrow night if all goes well.
Again, I invite you to make some measurements of your QHY268M cameras to see if your specifications agree with mine or perhaps establish how much variability there is in the specs. Thank you!
Best Regards,
Ben
Edited by BenKolt, 10 April 2021 - 10:45 PM.