Hi everyone! I wanted to share a few photos of my battery box project, in case it helps anyone on this forum, just like other's posts have helped me design and build this.
Here is a photo of the completed battery setup (powering my laptop for a test). The entire battery box weighs 20 lbs.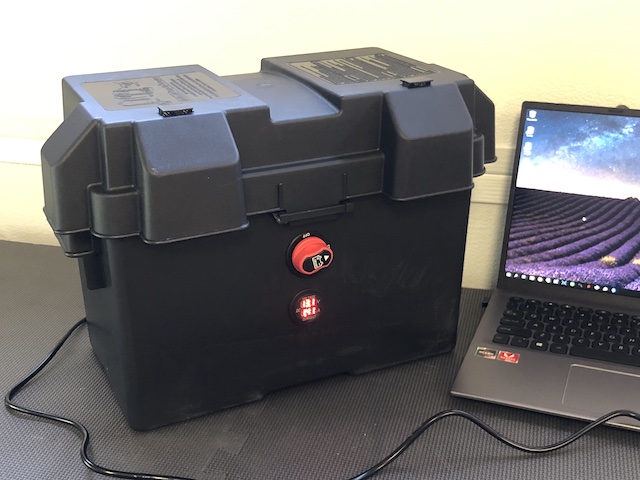 I wired two 36 A-h Miady LiFePo4 batteries in parallel: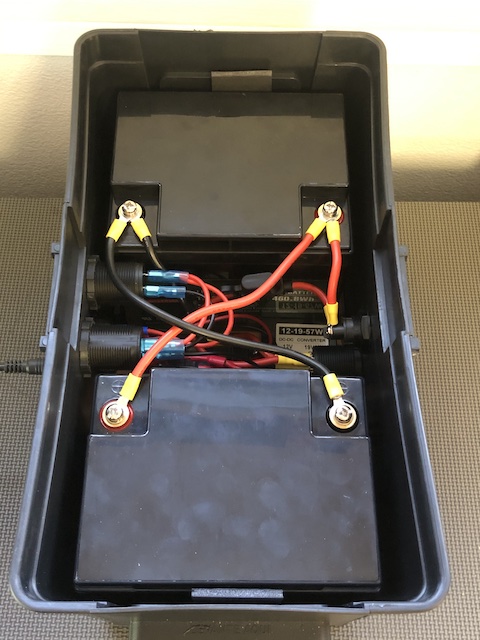 On the front, there is a master switch and a digital volt/amp meter: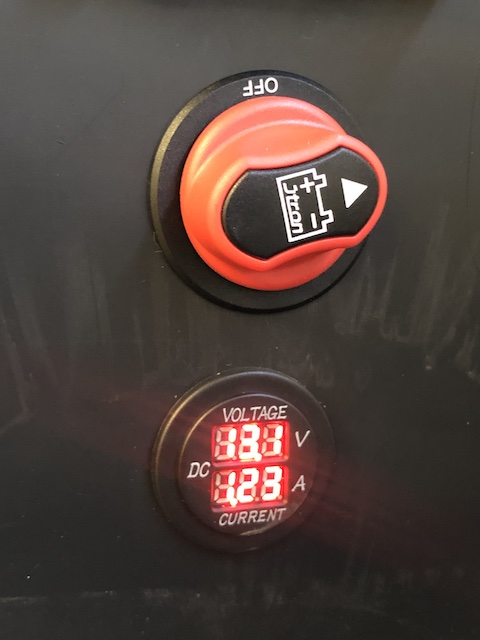 On the back, there is a QC 3.0 Dual USB port, a cigarette lighter socket (both activated by a switch so I can turn them off, I don't need those at night and the QC 3.0 Dual USB port has a fairly bright blue glow around it...), and two 5.5 x 2.1 mm female output jacks, one at 12V connecting to the Pegasus Astro Powerbox Advance or to the charger, and one at 19V (behind a boost converter) to power my laptop: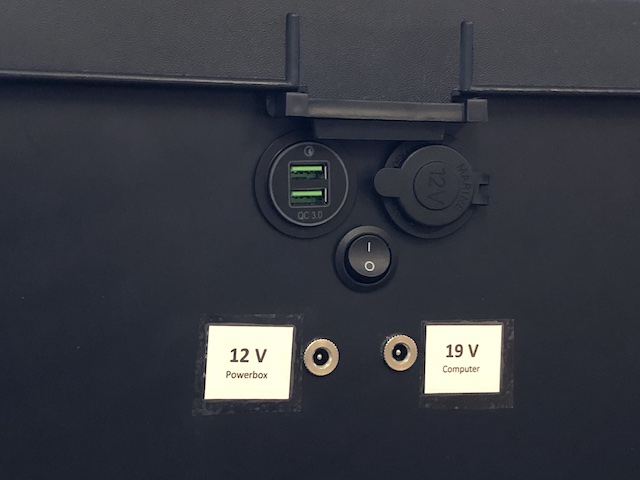 All the wiring is between the two batteries. It's a bit of a mess, but it's workable: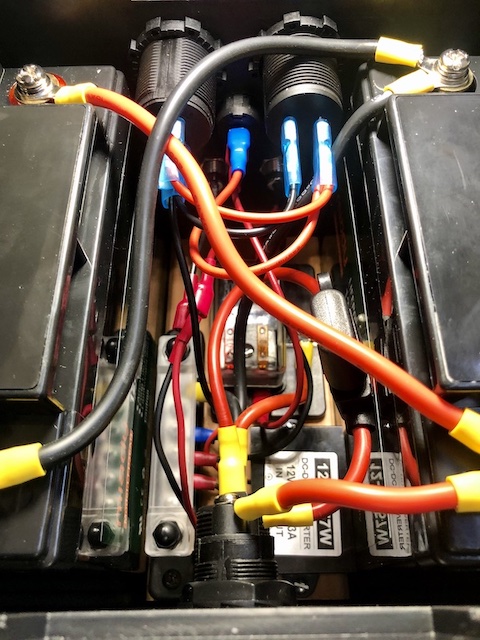 On this last photograph, you can see how the batteries are connected in parallel (note: since taking this photograph, I bent one of the connectors, leaving a 1/2" gap between the red and black wires connecting the batteries, just because I am a little paranoid with safety...) You also can see an inline fuse (15A), a fuse box (hard to see, bolted to the piece of wood at the bottom), the boost converter, and a bus bar to keep things somewhat organized...
Links to supplies:
Of course, you'll also need wires (I used what I had in my garage, which was a combination of 12, 14 and 16 gauge wires, each strategically placed, but be sure to check the AWG chart to get the proper gauge wires for your specific setup), crimp connectors, heat shrink tubing, etc.
This powers the following equipment:
iOptron CEM70
ZWO ASI533MC Pro
ZWO EAF
ZWO EFW
2 dew heater bands, 1 for the guide scope and 1 for the main scope (a 130mm refractor)
Pegasus Astro Powerbox Advance with environment sensor, to automatically adjust the power to the dew heater bands
A cheap ASUS laptop..
The next step is to get a 100W foldable solar panel and a solar charge controller so that I can go off grid for many days and keep imaging away.
All in all, this was a fun project. It's all pretty simple, but you have to use common sense and do a bit of reading before ordering things. Also, draw a wiring diagram, it is very helpful! (I purposefully did not post my wiring diagram because you should think about your own needs and draw your own diagram instead of just copying mine, this will force you to ask yourself the right questions...)
I hope this helps. Take care, and clear skies! (although California could use a bit of rain between new moons...)
- Julien (San Jose, CA)
Edited by jlecomte, 12 April 2021 - 10:20 AM.