I'm experimenting to see how much the focal reducer helps my C11. I thought I'd share the experiment results for anyone with bad weather and coping with boredom. There are no real revelations here but it might be interesting.
The setup is an Edge HD C11 and a Celestron 0.7x focal reducer. I intended to get about the same on each setup but wind did not cooperate, and I got 6.4 hours at 2800mm and 8.7 hours at 2000mm.
The first surprise is that the 1 stop I expected from the focal reducer did not seem to give that much difference. The same exposure with each did yield a brighter image (higher DN's) but not that much higher. Here is a blowup of each sub, the 2000mm at 3:1 and the 2800 at 2:1 so they are about the same size (so pixels will be a lot larger on the 2000mm).
To me the detail pretty close. Overall (not terribly visible here) the the stars are a bit tighter on the 2800 vs 2000. If I look at specific areas, for example, the background, their DN's are about the same. The core of the galaxy brightest points 1300 vs 1900. I expected a larger difference, that's more like half a stop. That's a diffuse subject where the focal ratio is supposed to be more relevant. On the other hand, the bright star to one side of the core I get about 4300 vs 9500. That's actually more than a stop. It might be that the focus was better in the focal reducer?
If you look at the very faint galaxy on one side (in the later full size image), you can sort of see what happens with exceptionally faint detail.
It's hard to tell but the 2000mm (on the right) is smoother and with less noise (again these are scaled to be the same screen size).
So the short version is that exposure wide I could do a less images (or less time on each) with the focal reducer. No surprise. I'm not convinced the answer is, on balance, half. I think that faint galaxy might disappear with half the exposure. Not sure.
Anyway... So I integrated and processed the 2800mm here: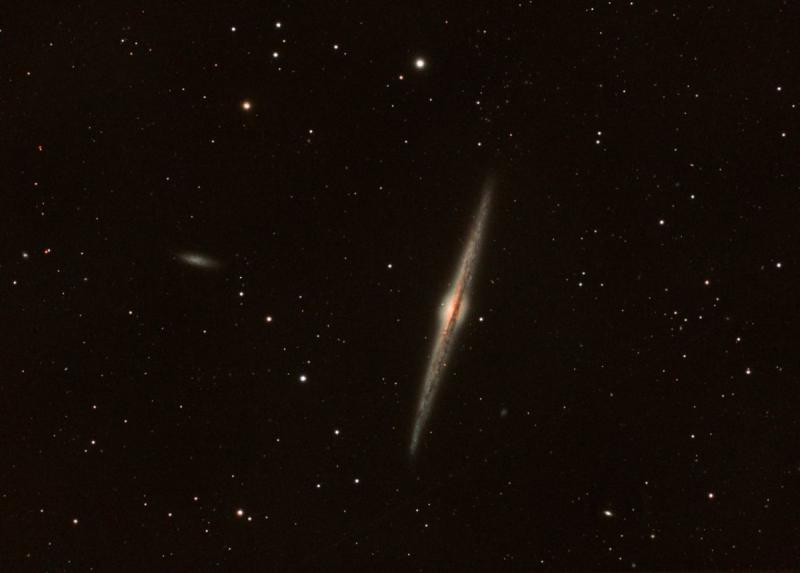 (Moving to a new topic so I can post some more photos)