Like many of us, I have photographed M51 six or eight times over the years, getting slightly better results each time I did it. This year, for the first time, I started to see some things that I had never noticed before, not in M51 itself but in its surroundings. First, there is the usual, beautiful structure within M51 itself. I feel like I was able to get a bit more "pop" than usual just because I added some H-Alpha into the red channel. That's nice, but hardly revolutionary. The next thing I managed to do was capture some decent quality data from fairly dark skies rather than my usual Bortle 9. It's not a log of data--only a single night--but even a couple hours from Bortle 4 got me quite a bit deeper than more than twenty hours from home. Nice! So, what are the things I hadn't seen before?
First, there is IFN around M51. Not exactly a shocker, I know, given its location in the sky, but I had never seen it before in amateur images. Now that I've gone and looked for it on the internet, yes, it is there, but I've certainly never captured it before. In my image you'll see a faint finger of nebulosity coming down from the upper right corner of the image. If I really push the luminance data there are a couple areas as well, but I didn't have enough integration time to include those areas without more noise appearing than I wanted. Still, pretty cool.
Second, I can just make out a faint tidal stream coming off NGC 5198--the elliptical galaxy to the south (right) of M51. Never seen that before. Again, if I go search for it in other images I'm hardly the first, but it was fun to capture something totally new to me. Sorry if the JPG compression and file size requirements remove the tidal tail--I can post a stretched crop to show it as well as a more heavily stretched image of the IFN.
This is 2.5 hours of luminance data and one hour each of red, green, and blue data captured from a Bortle 4 site near Lake Berryessa on Saturday night. I added an additional 4.5 hrs of H-alpha data into the red channel (taken from home under Bortle 9 skies) to make the HII regions in M51 stand out. Seeing conditions were so-so (about 2.3" FWHM). Honestly, I was hoping for better based on the forecast, but I'm super happy with the rest of the image. The telescope was a 305mm Riccardi-Honders at f/3.8. The mount used was an AP1100GTO AE. Images were all unguided. The camera was a QHY600 monochrome.
C&C welcome (as long as any criticism is constructive).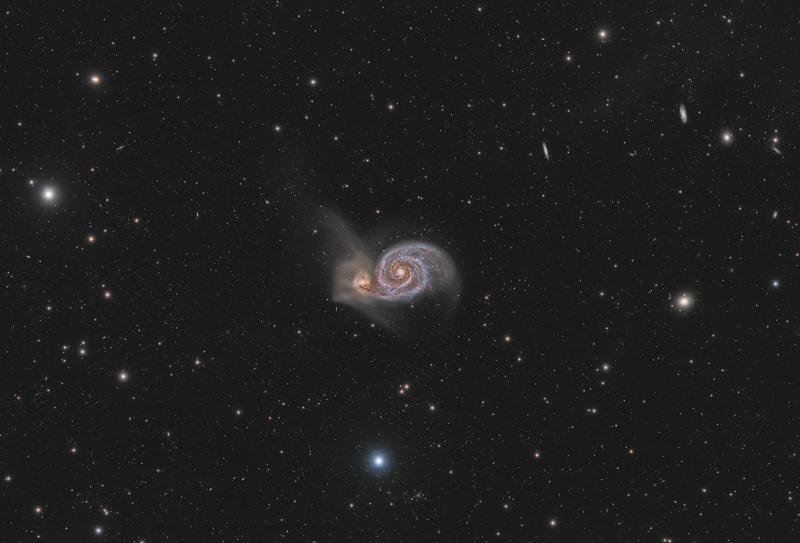 - Jared