Greetings!
Like many reporting on this forum, I have recently received a new QHY268M. This is just part of a whole set of new equipment that I ordered in early January:
QHY268M: 16-bit APS-C sized CMOS, 3.76um pixels
QHYCFW3M-US: thin medium-sized FW
QHYOAG-M: medium-sized OAG
36mm Round Unmounted Astrodon LRGB + 3nm NB Filters (Ha and SII filters not available yet)
Filter Centering Masks from Buckeyestargazer Shop (I highly recommend these!)
Various Adapters and Spacers from QHY, Moonlite Focuser, many other vendors (not all available yet)
Prior to collecting enough gear to mount the new camera, I characterized it and came up with some devations in my measurements from the specifications posted by QHY. I posted some graphs in case you are interested.
After a long wait, I have finally been able to mount my new gear on my Teleskop Services 130mm / 910mm Photoline Apochromatic Refractor. I also have the TSFLAT 2,5 flattener for this scope, but unfortunately the adapter required to connect it to the QHYOAG is not yet available. For the time being I have to be content with slanted corner stars. The focuser is a Moonlite CHL, which takes 68mm threaded connection. I am using the OAG's 54mm-sized spacers, and I had an adapter made by PreciseParts. Only later I discovered that this adapter is available elsewhere, however it's yet another one that has a long, unspecified wait time.
Over the past couple of days I've been spending much time adjusting the pickoff prism of the OAG, calculating spacing, mounting, dismounting the imaging gear, but I finally have things assembled in working order. As many on this forum have previously reported, care must be taken in adding sufficient spacing between the FW and the OAG so that the guiding camera can be focused in tandem with the imaging camera. This was not a trivial exercise. For guiding I use a QHY178M, and I could only find vague specifications on its back focus. I think it's on the order of 12mm, although it could be 10mm. I also couldn't add too much spacing between the FW and OAG in that the longest screws provided by QHY still needed to thread sufficiently through all the spacers, OAG and into the front plate of the FW.
Here is a picture I took of my assembly with annotations showing the items and their back focus. I made this for my own records, but also wanted to post it here as it may be of use to others: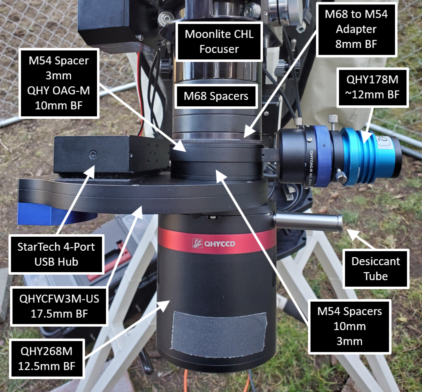 At first I thought that I'd get by with a 10mm long M54 spacer between the FW and OAG, but when set it all up, I quickly discovered that I couldn't quite focus the guider with the imager. I had the guider seated as far down as it could go in the holder of the OAG, but it wasn't close enough. I then added an additional 3mm long M54 spacer, and this was now sufficient. I have a small amount of play now with the OAG's helical focuser where I can bring the QHY178M into focus. The rest of the gear is labeled in the picture.
When I get the last adapters to attach the scope's flattener, I should still have plenty of room to fill the 88mm or so back focus budget.
Next I'll post my first light image (still a work in progress) along with some reflections on how this camera is operating for me.
Best Regards,
Ben