Hi folks! I'm very happy to bring you the first shots of the year. With a complicated capturing time, the sky and planets called me once more. On Monday night I saw that on Tuesday very early in the morning there were going to be pristine conditions for what the Buenos Aires skies are, which were not goint last much. With the oppositions still far away, at least Saturn and Jupiter were going to be above 40° alt., I said to myself why not or at least I would think about it. Finally, I see that at 6:30 am (9:30 UTC) Jupiter was going to have a GRS transit and another with Jovian Europa. All too good to be true, so I go to the forecast for the jet stream and surprise, I see that the upper winds were going to be almost non-existent. So, I set the alarm clock at 4:50 am....
In total I managed to capture between 6am and 7am, 3 15' sets before dawn began to mess with contrast. 2 of Saturn and one of Jupiter. I discarded the first batch of Saturn, although it is not bad, the second batch was taken at a higher altitude and it was noticeable during processing. Jupiter had about 47° alt. at the time of capture, which although it is not the best, it was not the worst either. I must also say that the seeing was crazy, I never had these conditions at those altitudes and luckily it was reflected in later.
The processing method was the same as always: capture in FC, centering in PIPP, stacked in AS !, deconvolution in AstroSurface, de-rotated in WJ and aesthetic in PS. Also, the batches are 15' each in 1.5' videos, at about 200fps for Jupiter and 70fps for Saturn. Of these, I stacked between 10% to 15% for Jupiter and 10% to 30% for Saturn. Both images are a 80% resize of the x1.5 drizzle: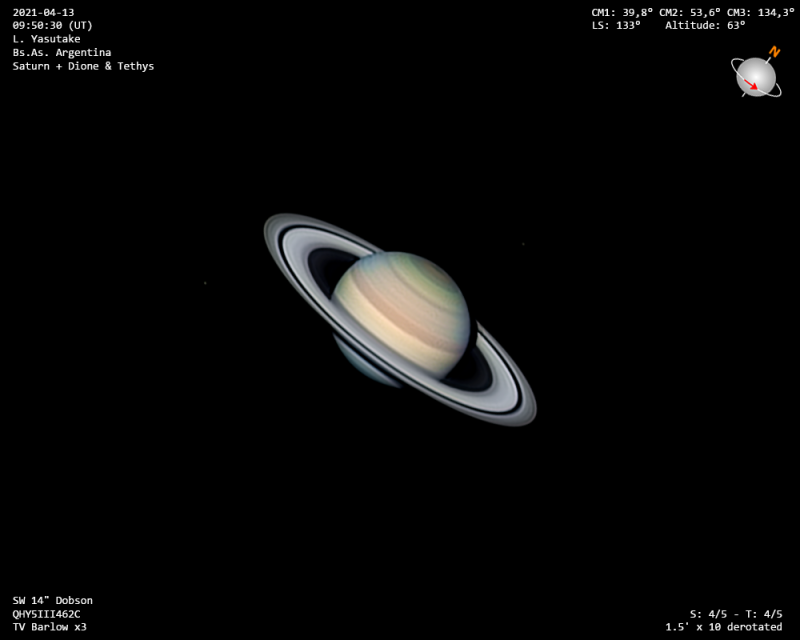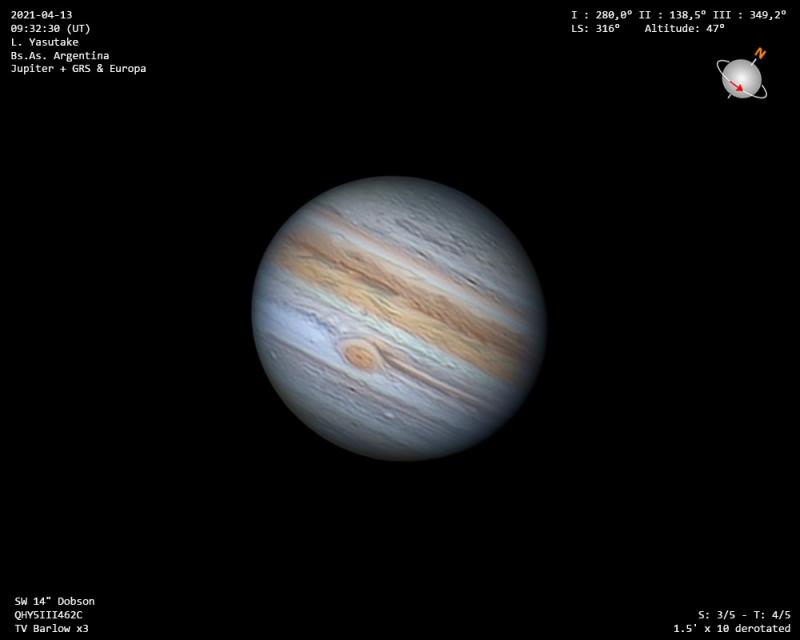 This year it is noticeable how Saturn appears less tipped, making the task of photographing the polar hexagon difficult. Too bad I didn't have the time to take an IR capture to see it better. I don't see any storms in sight but a few nice superficial details. As for Jupiter, the northern bands are calmer after what were last year's storms. Europe appears shy above the GRS. This one does not have disturbances like the chimneys that emerged a few years ago, but I would dare to say that there is a orange tint in its upper part within the southern equatorial band.
Both giants are far from their respective oppositions and apparent larger sizes but what a show they gave. At the eyepiece they were incredible, with a clarity that I rarely remember seeing despite the relative low altitude. How I missed them !!!
Best regards, Leo.
Edited by leoyasu, 15 April 2021 - 01:15 PM.