But don't give up.
That's my lesson for the night.
I haven't had this many things go wrong in a while. Lets take a look at the laundry list of mishaps:
Polar alignment took way longer than usual. I think close to half an hour. It just didn't want to enter the sweet spot, hovering at + or - 8 arcmin no matter what. Eventually got it close to 3' and left it there. Time to pick my battles.
Calibration went bonkers the first time around, chasing a nonexistent star. I had to reset the whole thing to have it behave. Not sure what happened there.
Focus. OMG. With the bhatinov, one star was spot on, and the next one (literally, the one right next to it) was seemingly out of focus. I think that other star was right. See below:
Focus. FML. It was close, but a bit off. Somehow Red was waaaaay out of focus. I had blobs, not stars. Which is particularly puzzling because my OTA is a reflector. The glass elements? I dunno.
Guiding was jumpy. It seems the SNR around the target was not up to the task, so I had to increase the exposure time to around 4 seconds. Yikes.
Guiding took a vacation. Not only the egg-shaped stars, but it actually went for a trip four, read it FOUR times during the night. I had to keep an eye on it. Half of my data set is just off center because of it. I think there was some nearby similar star pattern that it locked on at random, and made it shift the framing to guide on that other pattern. What a trip.
Egg shaped stars, probably because 4s is way too slow for my mount. Except on red... red was still blobs.
Crazy long flats. I guess I got my flat panel brightness wrong, because the wizard started taking 10s flats. No way I was going to stay up at 5am for 120 subs like that... so I had to abort, toss them all out, and restart with a brighter light.
Oh... and my neighbor decided to keep the party lights on. How friendly of him.
The focus part puzzles me to no end. In fact if anyone can venture a guess, it would be nice to figure this out. I know my LRGB filters are parfocal, I have ample past images that prove it, and it doesn't look like tracking errors (all subs are like that). Seeing, maybe, but I would have to have been the unluckiest dude to get only my R subs affected by horrible seeing while the rest were fine. Also I was under the impression that red was less affected by seeing (being a longer wavelength).
For reference, my mean FWHM is 5.0 in L G and B, which already is subpar compared to other projects, but 7.4 in R (arcsec).
Now I wish I had an autofocuser.
Anyway... I was planning a multi-night project, but of the 3 clear moonless nights, I could only take that first one. Then life decided that one moonless night was enough. Just had to work these other 2 nights, IT life... has its drawbacks.
With all the curve balls, I just gave it 110% on processing. Honestly, I did not expect to get it this far. I'm also amazed at how little trouble the awful red channel gave me. Sure I had to deconvolve the carp out of it... but still...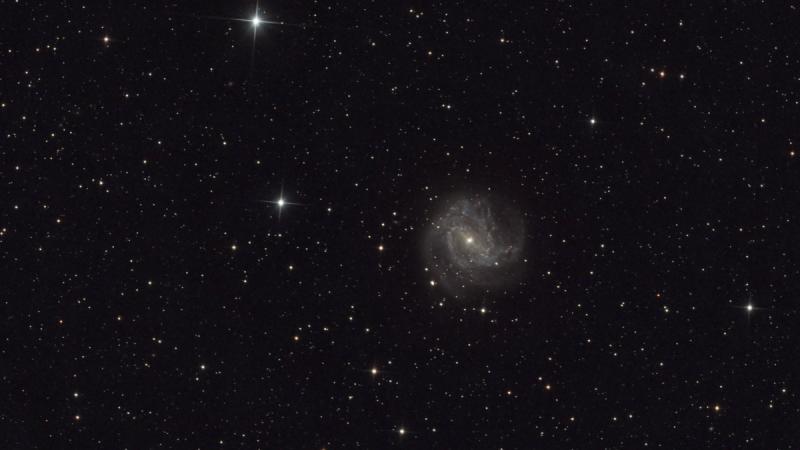 The equipment is my NEQ5, 150PDS newt + F5 CC, QHY 163M + CFW3, ZWO LRGB and Orion 5561 skyglow filter (yep, double filtering, but it's not that either).
BTW, that's 2h 53m of integration.
Anyway... I felt like sharing my frustration.
Clear skies, and have fun.
Edited by klaussius, 15 April 2021 - 12:31 AM.