Hello CN,
Attached is my capture of the great Orion Nebula (M42) from November of last year, this target has been on my list for a while. Though it is a good image for 79 minutes, revisiting to acquire additional data providing more faint dust and nebula detail is on the horizon. Processing M42 was a challenge in PixInsight, due to HDR techniques, blending, and masking! Any pointers on how to improve would be greatly appreciative, thank you for looking.
Clear skies,
Garvis
Capture Date: 11/10/2020
Location: Backyard in Upstate Central NY
Moon Phase: Waning Crescent
Illumination: 29%
Moon Age: 24.16 days
Temperature: 42F
Wind: 5 mph
Telescope/Lens: William Optics – Space Cat
Mount: EQ6R-Pro
Autoguider: ZWO ASIair Pro
Guidescope: ZWO 32mm Guidescope
Guide Camera: ZWO 1290 mini
Main Camera: ZWO 183MC Pro – cooled
Cooling: -10
Gain: 111
Bin 1
Filter: IDAS NB1 – 2"
Lights Series:
180s: 40
60s: 46
30s: 34
10s: 76
Dark Series:
180s: 20
60s: 11
30s: 10
10s: 18
Bias: 200
Flats: None acquired
Iteration Total: 79 mins or 1.32hrs
Processing Software: PixInsight 1.8.8-6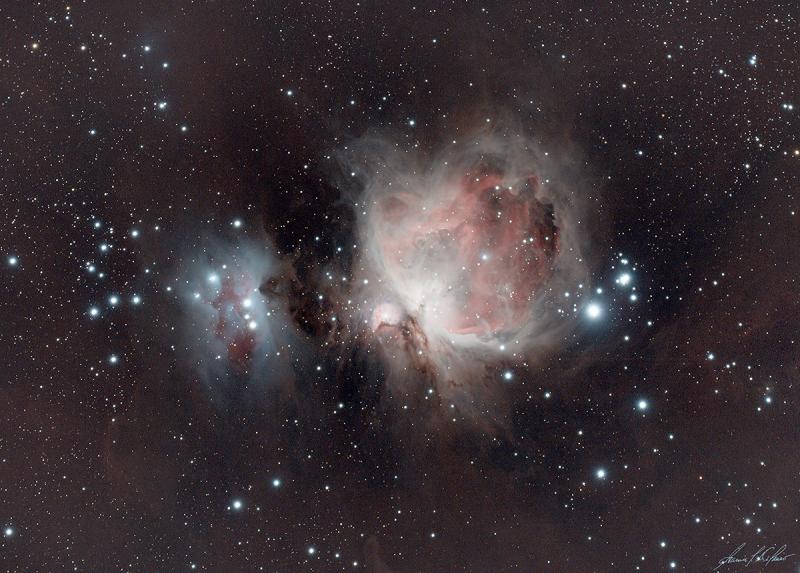 Edited by Garvis, 16 April 2021 - 11:39 PM.