Woke up to some clear skies so rushed out as the sun was coming up to do some emergency imaging so my scope wasn't ideally thermally equilibrated. Recently snagged myself a 183MC to match my 183MM to see whether the effort for monochrome is worth it so I used it for this imaging. My conclusion is that for colour images that include moons, a one shot colour camera is best. For infrared the monochrome is obviously far better. For sole planetary colour capture it's a mixed bag - if the conditions are good monochrome is marginally better for a lot more effort, for average conditions the OSC gives me more scope for finding the least worst capture period. Still trying to find the right Red and Blue settings for the 183MC so I had to normalise Jupiter's colours.
Hardware: Celestron Deluxe CPC 1100 Edge HD, ZWO ASI183MC, Baader IR/UV cut, Televue Barlow.
Software: Firecapture, Autostakkert, The Gimp.
Captured at ~F/12. Not upscaled or drizzled.
Europa, Ganymede, Io, Jupiter, and Callisto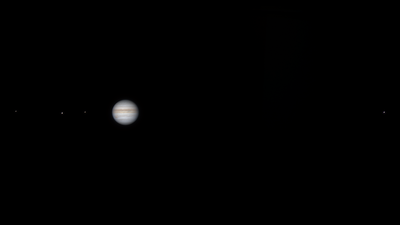 Full resolution: https://www.cloudyni...-l6-ap119-full/
Edited by Ittaku, 22 April 2021 - 06:39 PM.