So in typical "Zane is bored" fashion I decided to head on over to Rhode Island for a 5-hour round trip to pick up a homemade 8" f/6 Dob on FB Marketplace because... it looked cool. You heard me. I guess I also wanted some inspiration for the scope I'm going to be building with a friend with the 6" f/8 John Dobson mirror I recently obtained.
I actually wasn't even completely sure of the aperture till I arrived. The guy selling it was the original owner, and made it in 1984 based on Richard Berry's Build Your Own Telescope. As such, it's a square tube job, with an access hatch. The bearings are made out of PVC pipe bits. The base is overbuilt. It's a bit klunky, and many would consider it ugly. I've got mixed feelings about the aesthetic.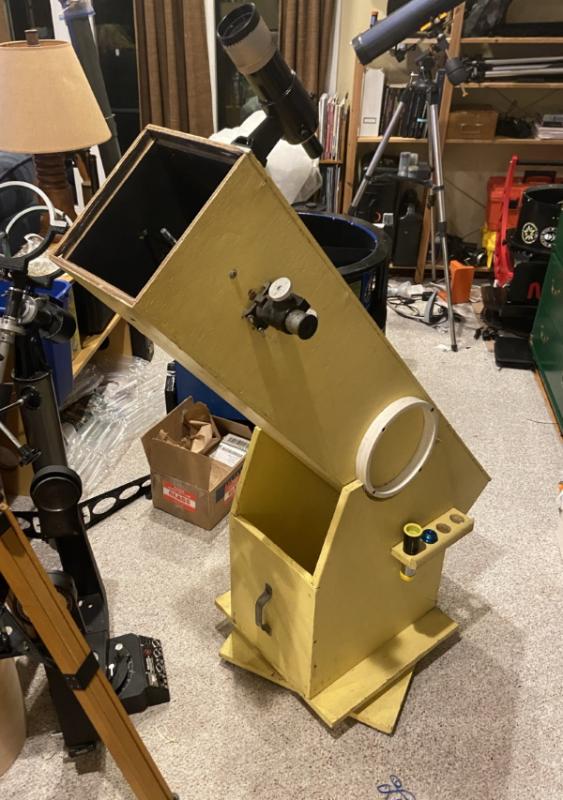 The Builder copied Berry EXACTLY on the OTA, right down to the pretty horrible mirror cell which has zero ventilation and can only be adjusted with a socket wrench. The mirror is glued in and I couldn't even adjust the collimation bolts, so it's a good thing that a) the primary is dead on and b) it holds collimation really well. I also couldn't adequately clean the mirror as a result, so I'm sure some of the crud on it could still come off with a good scrubbing. The focuser is a Parks or Meade, and the secondary holder is an annoying-to-adjust but solid Novak. But the ground board is not at all based on the book. The thing had nine barely glued on Teflon pads spaced out randomly.... and no feet. I removed the extra pads, nailed in the remaining ones, and added feet made out of some scrap purpleheart, and it works quite well now.
The builder/owner also made the mirror, and this was of course a little worrying the moment I heard "I had to learn calculus to make the Couder masks" and "I think the outer zone is messed up". Well, he wasn't wrong. The (full-thickness) primary has the worst rolled edge I've ever seen - I actually thought the spider vanes were messed up and there were extra diffraction spikes at first. The edge focuses nearly 1/2" away from the rest of the primary.
Needless to say, I don't think this scope would make a serious observer happy in its current state. But if I stop it down I figure it'll be quite good optically, and the coatings are... serviceable. I stuck on a 9x50 finder since the original Telrad was missing and I had a spare finder lying around. But most convenient of all... my girlfriend is an artist and has all sorts of neat paper cutting tools that would be perfect to make an aperture stop to bring this thing down to a 7.5". So it's going to be her first scope