This is my first pass through the basic steps of an astrophotograph, meaning that I avoided any major blunders* going through the process. Now that I've shown that I can get that far, I'll start to refine my skills and (hopefully) improve the quality of the results. So far I'm using the default recommended settings in Deep Sky Stacker and haven't yet started experimenting with changing those. I used GIMP to adjust the image, and there's always more to learn there as well.
Comments, advice, suggestions, advice, or admonishments all welcome!
*When I was putting my white tee shirt on the scope for flats, I did bump the camera, which turned out not to have been locked in place tightly enough. I tried to rotate it back in place, but I could have been off by a couple of degrees, which could explain the slight vignetting.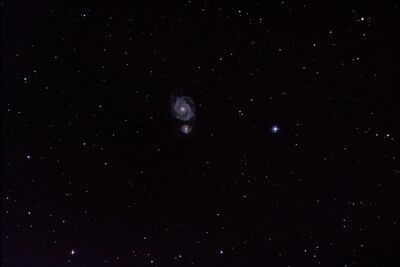 30 x 40 sec exposures; same number of dark, flat, and bias frames
Stacked in DSS using default settings; stretched in GIMP
Nikon D3000 DSLR; ES N208CF 8" Newt with HP coma corrector on iOptron CEM40 mount
no auto-guiding