Very busy here domestically (DIY) recently, even so have made time for some fine views on offer.....Here a compilation of some of that.
Also took time to see what I could get from that 120mm f/5 Achro on Mars. Earlier attempts had me stacking Barlows with mixed results – but too many overhanging/unbalancing extension tubes. As I had other considerations (the 3") with such; I decided to get a Bresser 5x Barlow. This turned out to be very good optically – even powers on the (415mm f/16-f/18 D-K) of 1430x & 1765x (coupled with a 260x 26mm TV Plossl!) – testing on the Moon and some doubles – the maths don't seem to square but those, subject to further refinement, are what I measured.
Anyway with the 120mm Mars readily revealed recognizable detail.....albeit the need for more steadiness in the mount/tripod. As earlier I said with regard to that scope: recognizable features certainly, but it becomes more of a stunt than a study other than say the planet looks relatively normal.
Further to that, due to feature-familiarity, objectivity risks compromising or at least open to such accusation by the skeptical......still t'was a fun project: *Operation Pig's Ear to Silk Purse*..

..; and my Mars quests this apparition are likely at an end.
During those small-scope struggles I had, on a few nights, spotted Mars close-passing OC M35 in its (homebuilt) 8x50 finder. On Apr 29 I took a look with the 12x65s and hence the presented sketch.
Those doubles' renderings are from fine views in January with the D-K – having accrued a fair few of various doubles that were incidentally recorded in company/inclusion with my Mars better-seeing sessions back before opposition. Also more recently alongside Vesta investigations.
The two presented here simply because they were in the accompanying Mars/M35 field. 1 Gem (KUI 23) a surprise detection and rather felt it at least 0.15" than the listed 0.113" but a good PA agreement.............. Dave. (Back to that kitchen shelving installing!)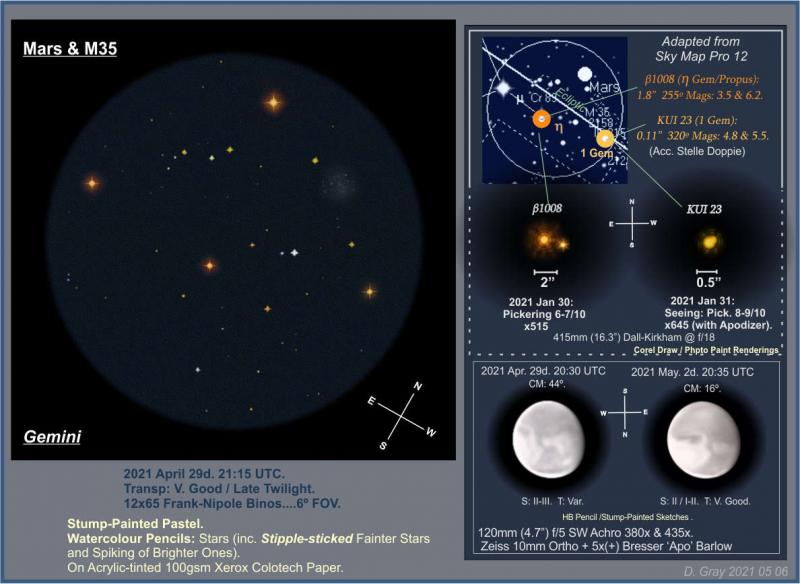 Edited by David Gray, 06 May 2021 - 02:48 PM.