Well, technically from the I.E. Where does L.A. end, anyway? If it even does...
A few weeks ago I posted up my unaligned feasibility test run on this plus some questions. On Cinco de Mayo I decided to give it a real try, even though seeing wasn't quite so good.
This was probably the most fun I've had with the telescope so far. Not because the image is anything great, it isn't, but just because of what it took to hunt this down and have all sorts of things all come together right.
Because my window to the south is right behind my garage wall with no north view, I spent a night using PHD2 to drift align the new mount location, then marked everything so it could be repeated. A neighbor two yards over was having a late pool party, so I had to rig up a tarp to block his 1.21 gigawatt patio lights. Goto was pretty rough, but I recognized some stars I could match up with Stellarium, and just had to slew the RA a little bit. Amazingly, I actually found a good guide star down there, and PHD2 gave me reasonable enough guiding. I took 30 second subs at iso100 (which looked like my coffee and milk in the mornings - must have been a lot of smog over SD that night!) and stuck to that, though 45 seconds might have been okay too.
Once NGC5139 cleared the last tree branches, I started BYN. Eventually it went into some other trees, of course. But I just let it keep riding, pausing acquisition and stopping PHD2 because it was really complaining. I couldn't tell where in the world the target was, because it was hard to sight-line the telescope and I had no luck with binoculars or even a 60mm refractor. But believe it or not, it eventually came out the other side of the trees still in FOV, and then skimmed along just above my neighbor's roof! This was right after transit, so a tad over 8 degrees high and some better conditions. I started everything up again and let it go until I hit a big tree from which there would be no recovery. In the end I was able to piece together a full hour between the two "sessions."
I was able to run a pretty strong deconvolution on the data, maybe too much?, and star sampling to get the colors right just didn't work well at all. Probably because of seeing through so many atmospheres. So I looked at some APODs and tried my best to mimic those. It's still pretty hard to get the right balance of white, yellow, and pale blue. Mostly I wanted to avoid it looking like a bowl of M&Ms. There's still some junk in the background. I could have squashed it some more, but didn't want to shrink away any little stars surrounding the glob by accident, so just left it where I was at.
Anyway, a good night, and I had the biggest smile on my face.

Transit is something like 11:15 right now, so a pretty good time to try and catch this if you are within range. I'm not going to set up the big scope again, this here is good enough for me, but if I can get a clear night I might try again with a wider field camera lens and see if I can pick it up. Then either use Sequator to handle the landscape, or take a separate foreground exposure to blend in, maybe framed between some palm fronds or something.

123 x 30s, Evostar 100ED .8x reduced, Nikon D5300.
[Edit, corrected current transit time for the big ol' glob]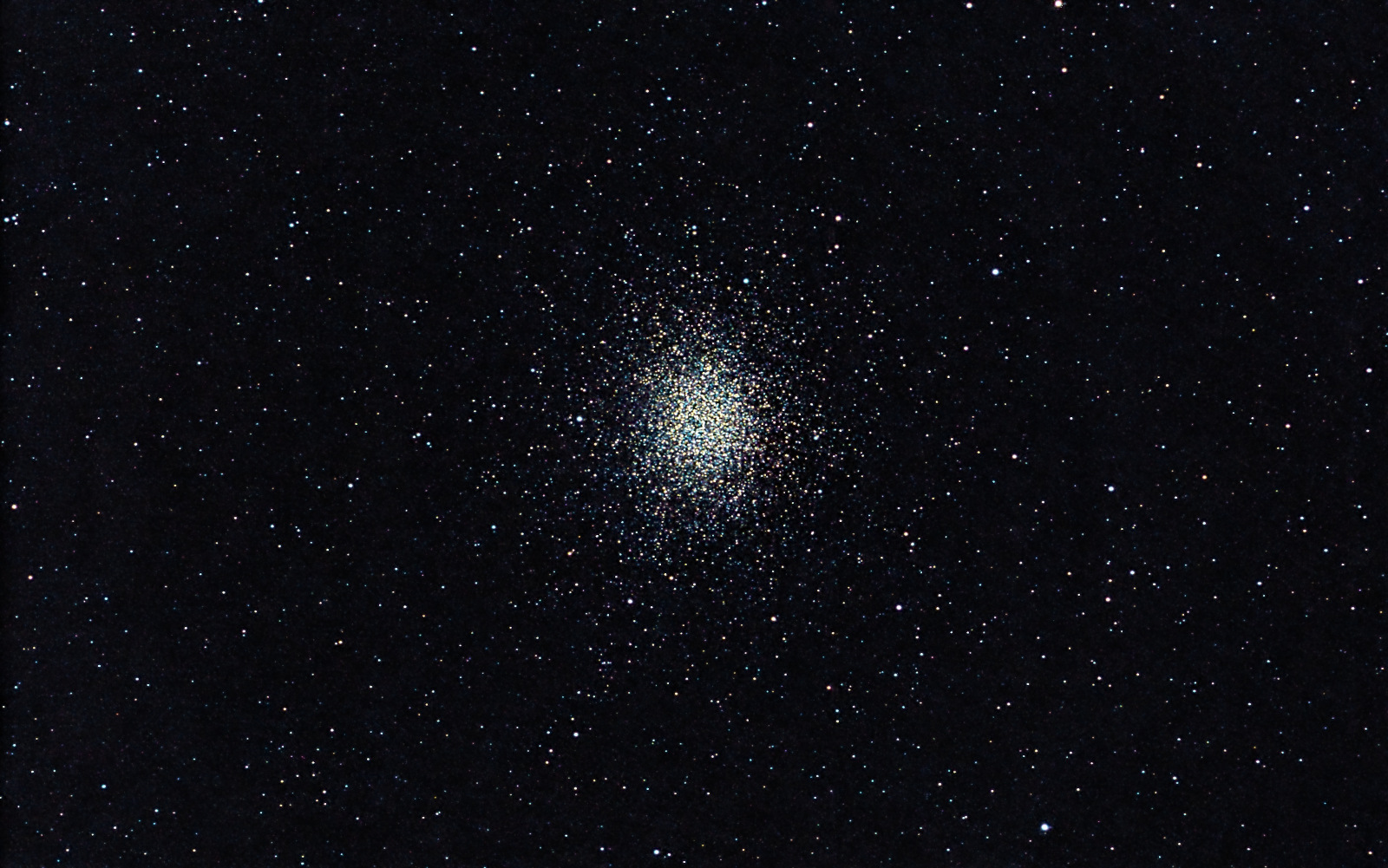 Edited by Mike in Rancho, 07 May 2021 - 10:01 PM.