Greetings,
Looking for some eyepiece advice for DSO visual observing (no photography/imaging) as I'm starting to suffer from analysis paralysis.
I have a Meade LX10 (203mm aperture, 2000 focal length) and trying to figure out if the various directions I can take with eyepieces make any difference in terms of:
DSO image brightness
Amount of detail one can see viewing a DSO (hoping to increase magnification without impacting brightness - which I understand as not really being possible)
Overall viewing pleasure (what might get me a better "Wow" factor)
There appears to be at least 3 directions:
1) Wider FOV 1.25" FOV eyepieces
2) 6.3 focal reducer with less wide FOV 1.25" eyepieces
3) Convert to 2" eyepieces
The following link and image shows options 1 & 2 with 4 eyepieces using M81 as an example:
https://astronomy.to...63||&messier=81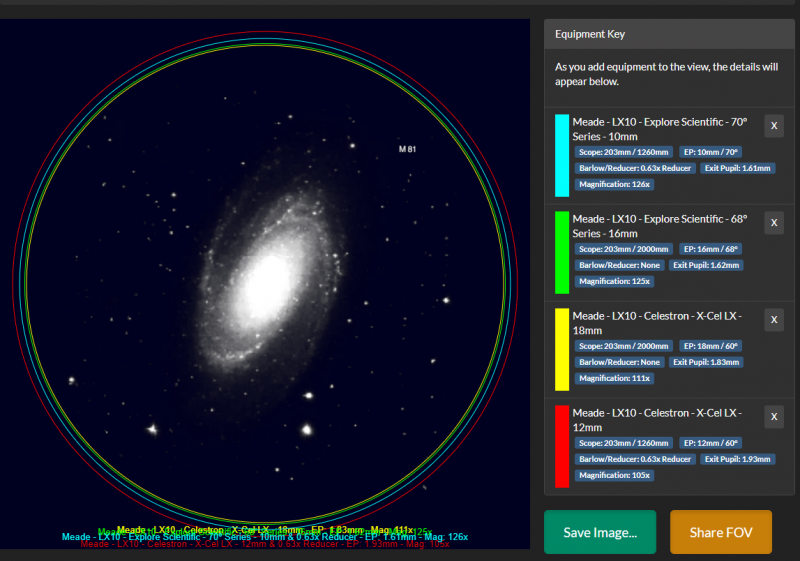 Those 4 each give about 0.56 TFOV. My brain is thinking that each of them will give the same viewing experience of M81 as the # of photons hitting my eye is about the same for each. However I can't help but see that the 12mm with focal reducer option gives less magnification than the others.
Will I see less detail of M81 with that 12mm with focal reducer option?
All other things being equal, what viewing difference does one notice viewing with a focal reducer that provides the same TFOV as a wide FOV eyepiece?
Is converting to all 2" (with no focal reducer) a real game changer for viewing in this scenario?
Thanks much!