Hi forum,
I recently imaged M101 (https://www.cloudyni...9252-m101-help/) and with a little help (thanks!), managed a decent image.
Last week I imaged the same target with an L-eNhance filter to hopefully enhance the galaxy's Ha areas. I had no idea how to use or process this data, but I thought that I would figure it out or find something on Google help me.
The imaging went well, but processing didn't. I had a few leads (from the PI forum) and searching on the internet, but I guess that I am just not there (yet). I kept running into steps that didn't apply or I interpreted them wrong. I only have rudimentary skills in PI.
So,I decided to try simple pixelmath to try different combinations of the OSC image and Ha image. Worked easily, but never could get a combination image that looked any better than the original OSC image.
I went out on my own and came up with this idea. Basically, split up each master into individual R, G, and B channels and combine the Ha channel with the OSC green and blue channels.
Attempted Workflow:
Open both the OSC and Ha masters
Star align both images (register the Ha image to the OSC image
Run ABE or DBE to remove background and gradients from both images
Split the channels of both the OSC and Ha images
Linear fit both sets of data to their respective green channel
Set the image size (Resample Process) the same for both sets of three channels.
Channel Combination using the Ha_R, OSC_G, and OSC_B
Here is when I got the error.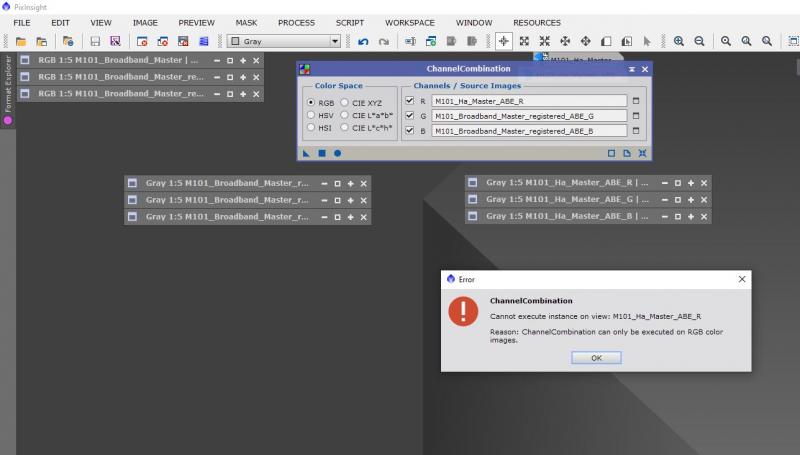 I really don't understand the error when this is basically the same process that I use with one image and it works fine.
I tried the same combination using the process LRGBCombination and got the same error.
Of course, this is not a correct approach!
Is this something that I should continue to pursue considering my basic skills in PI, or just shuck the data and stick with one filter imaging. I have tried other workflows (like https://www.lightvor...d.html#Section1) and have gotten stuck with not knowing enough to fill in the blanks.
Thanks for any guidance that you can give me (including the shucking idea!).