Hello,
I like to observe Jupiter because it is in motion and this movement is visible in a short time.
Yesterday's morning, the weather was fine. Right now, this is rare enough not to take advantage of it. So I woke up early.
At the beginning of the observation, I used a low magnification while waiting for the telescope to stabilize. So I have a good overview with the satellites that enter the field well. Io is very small and close to Jupiter. Its small size compared to Europa gives a nice feeling of depth.
There are several bands in the 2 polar zones, the north zone, a little more ocher than the south.
The NEB is very contrasted, quite low on the equator, the SEB higher towards the polar region, the gtr is perceived, but very pale and really above the SEB.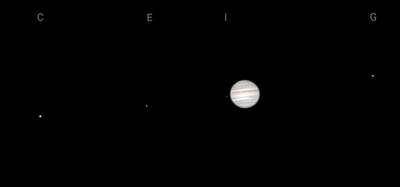 Observations 05.13.2021 from 3:15 a.m. to 4:00 utc in France.
Have a good day.