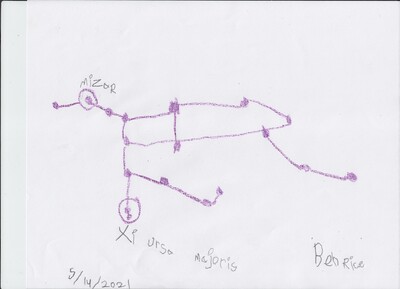 I think I have found my favorite part of observing. My 5 year old Son is getting interested in observing. After doing some looking around I found the "Sky Puppies" observing program (https://www.astroleague.org/skypuppy). We received the workbook this week and have started to set up our observing program.
First on the list is to identify 15 constellations, draw 15 constellations, identify major objects in each of the constellations, and tell two traditional constellation stories.
We are starting with Ursa Major. Tonight we learned about the constellation and two interesting stars. We are starting our observing program by looking at each star in the constellation, discussing the asterism of the Big Dipper, and making observations of Mizar and Xi Ursa Majoris. Our bed time story tonight was from Olcott's "Star Lore".
Even though I have observed these in the past, I'm looking forward to learning about them with my 5 year old.