Finally got the lens spacing right (very close) on my 6 inch F5. I've only tried it out a little bit with NV, but want to give it a good go soon. It's clearish tonight but the thin clouds are around and usually those are terrible for NV. It was quite the effort to get the spacing right, but also a good challenge. Just glad it's not my really good scopes as that would have made me nervous.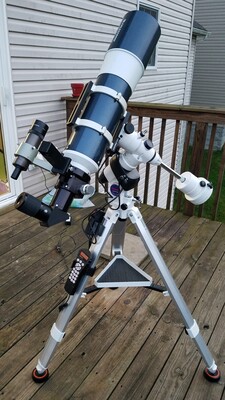 I know a lot of us have used 120mm F5 and 100mm F5 scopes, but I haven't seen too many with the 6 inch F5. Last time I checked, it didn't seem to be much of an advantage over the 6 inch F4 newt. But I didn't have the performance correct at the time.
It is of course a bit of a debatable scope as far as usefulness outside of NV. Since the exit pupil is pretty large at low power, and it's really only good at low power. Probably pretty neat in a very dark sky.