EDIT: just editing this first post & thread title to let people know that I've put a so-so red filter animation (super-smalled to fit under 500Kb) as well as some examples of how we see the collimation progression as stages of adjustment before we actually go to a planet & begin the routine for capturing - thought it might be helpful for some to see this - especially if they haven't moved with the times & use Metaguide or somesuch..!


Images etc in my latest post at the bottom of this thread...

Hi all - we're sitting in the van at Sedan at the old park/sports-ground packed up & ready to roll out tomorrow morning, heading for Yorke Peninsula & hopeful some calamari catches over the next few days/nights: might be another imaging chance at the end of the week which we'll take if it pans out ok.
As always a bit too rushed, got the new filter wheel yesterday morning & entered the C20th.....the C21st is just a bit too much for us atm!


Luckily it took no time at all to load the necessities onto the new laptop to allow FireCapture to enable the automated filter function...working straight away, which was a relief - I mentioned in someone else's thread here the other day that with my old H-P lappy running on Win8 that the Nautilus EFW was flaky at the best of times with the ancient drivers...& although after a lot of reading I found out some folks used another Orion driver to get things working on Win10, when I installed it the flakiness became even more flaky on the new Acer...

Anyway, armed with a new EFW & Acer laptop (8Gb RAM, i7, 1Tb SSD blah-blah) we got here late yesterday afternoon. (less than 100 miles btw)
Got up around 5am but lost an enormous amount of time familiarizing ourselves with various aspect of imaging again

- it's always more complicated actually imaging than running tests etc & using FC 2.7beta probably added a bit more complexity.
On that score I probably should apologize for confusing Andrew (Tulloch) a few months ago...Torsten has reverted to the earlier (more "normal" imho) application of gamma where lowering the value increases the contrast...after years where he'd sent FC the other direction I found little things like that a bit confronting...along with the preview screen rate where despite setting it to "Max" in the "Layout" we found we had to keep on hitting the "Max" tab on the top left to get a preview to focus on...but it'll all come good soon enough I'm sure.
Mentioning Andrew, he suggested the other day that he felt he needed plenty of RAM for processing although he did qualify his comments by acknowledging that an SSD might make that redundant...
Happy to report that for whatever reason, a "measly" 8GB of RAM in my new laptop is no impediment to ripping through all the processing very fast in AS!3!

Anyway, we started out with quite reasonable seeing for collimating but unlike Quopaz who lives not terribly far from here who reported good seeing right through to Sunrise in his current thread...our seeing deteriorated quite rapidly. Unusual because I'm sure that 95% of the time the seeing at Sedan would be superior to Mt. Pleasant, but that's life!
Never even got a chance to image Saturn with all the faffing around...I'd initialized the r-g-b filters, but wanting to try some iR I went through the whole process again: lots of little things like the screen preview rate situation that we'll iron out soon enough I'm sure...I know from conversations with Torsten that I'm probably overlooking something that will be "set & forget" once my brain starts functioning somewhat...
After the first couple of r-g-b captures the seeing nose-dived, possibly the Sun rising by then on the flat Eastern horizon having some influence.
Here's an rgb & the individual filter channels - still trying to get some seeing that'll yield the type of outcomes we'd like to get but that old saying about "if wished were fishes..." is always there to keep your feet on the ground...still a full 3 months until opposition - so there's plenty of time to start getting really decent images..!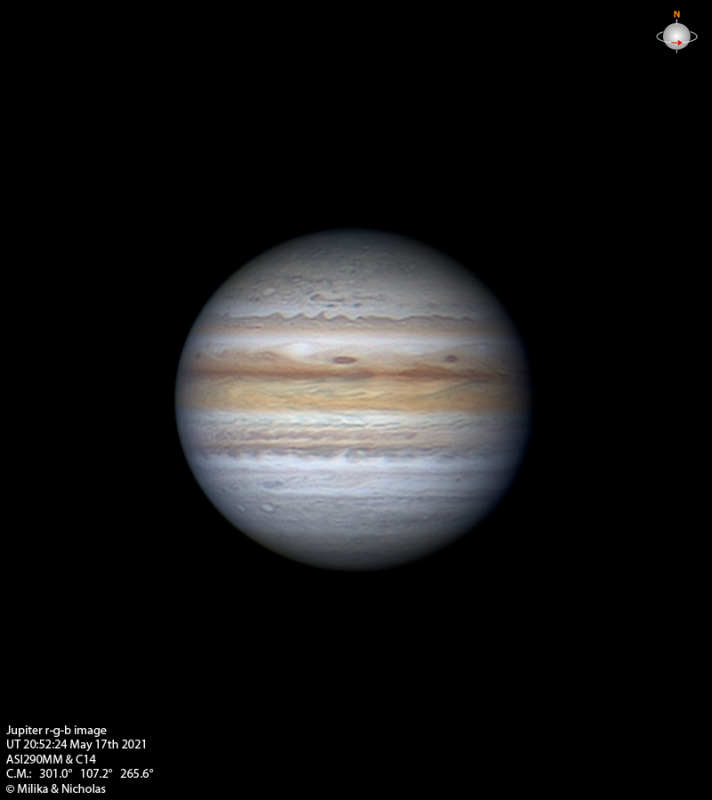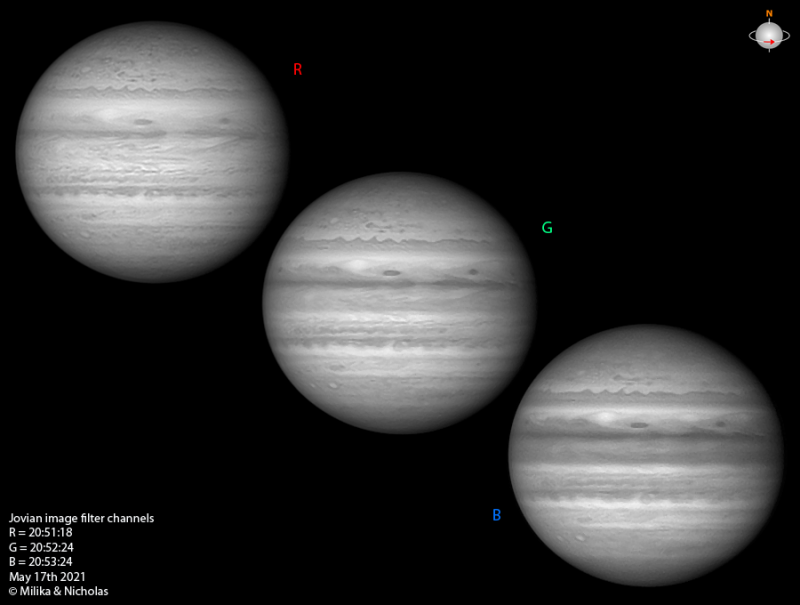 Edited by Kokatha man, 19 May 2021 - 03:39 AM.