Hi to all,
From a few days I have a skylow version 2 I think and with last firmware installed 2.3.3 bought recently used. He had sold it as a failure then I tried it and saw that the red LED became green and this made me understand that perhaps it could work.
I discovered using a laptop with Windows 7 installed that I could connect via wifi, I couldn't do it from Windows 10 (perhaps the ad hoc connections for security are no longer possible)
Once connected via wifi, I saw that it was set to hoc connection and I removed it and put my router's home router and password and after turning it off and rekindled I could also see it from Windows 10 and also detect it from skysafari 6 Android and it seemed all solved.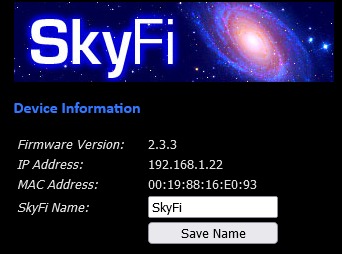 BUT
After I put off and on, SKYFI Goes on AD HOC again and I have to reset again, take the old laptop with Windows 7 and do it again. WHY?
Perhaps the batteries must always be inserted in the Skyfi?
thanks for info
Edited by patrizioitalian, 11 June 2021 - 06:12 AM.