At new moon in May, seven members of the OFLI "club" (Off Fisher Lane Irregulars... yes, a nod to the street urchins of Sherlock Holmes' notoriety) met up on the eastern border of California in the White Mountains. We had 4 nights of excellent seeing and transparency at one of the darkest sites I've experienced. One member measured with his SQM at 21.9
We camped and observed at 7,000+'. It was really pleasant by day when we explored the region for Native American petroglyphs... finding the "Sky Window" and "13 Moons" on the volcanic bluff north of Bishop, CA. These really well preserved petroglyphs, believed to be more than 1000 yrs. old, were very impressive. Another day, we drove to the main Bristlecone Pine forest, to hike among the oldest living, non-clonal, organisms on Earth, in the high dolomite landscape at 10,000+'. The Whites are so named because of the dolomite which is a type of white limestone... no other trees grow there but the Bristlecone. Being in their presence offers a different way to time travel.
Nights were cold, down to the low 30's. I used my battery operated hand warmer every night as I observed from about 10pm until 1 or 2am. One night I went to bed early and got up at 1am to observe until dawn. The camaraderie was great. The observing was really great. I used my 8" Newt most of the time, but also used my 105mm and 300mm Nikon lenses for a wider FoV. I took about 160 photos, but culled them to 91. The first 8 images in my gallery were taken from the White Mtns. You can see them here:
https://www.cloudyni...-phonetography/
I was able to grab Omega Centauri just a couple of degrees above the horizon. Rather than nebulae, I took lots of images of galaxies and clusters. One image was interesting (included in my gallery) of the Cat's Eye PN. It was the first time I had captured the faint H-a that surrounds the very bright core. Even though it's grainy, it's amazing that it can be seen at all in a 1 second exposure... thanks to NV.
The photo below has a fair amount of edge distortion but it is still one of my favorites from the trip because it shows the vast extent of H-a that surrounds Gamma Cygni. You can easily spot the Crescent Nebula on the right side; the Propeller hiding in a small cloud of H-a on the left. ISO 250, 1s exp/20s average in NightCap, 7nm filter with Nikon 105mm AiS lens. This presents a 9.5° FoV.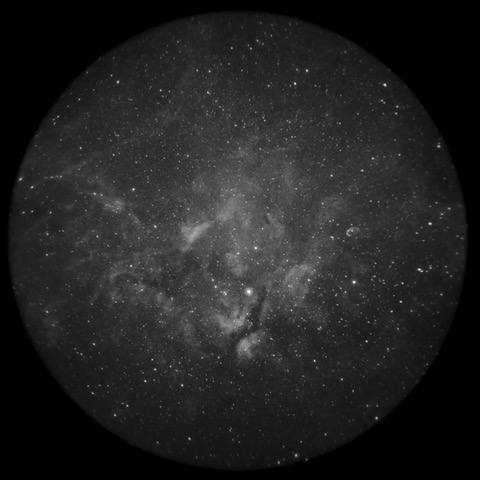 This next one I labeled for reference, was taken with the 8" Newt with .73x reducer, no filter, ISO 80, 1/3s exposure/averaged 15s. Using the Newt with a 2x Barlow and using a bit of digital zoom, I took images of about 30 individual galaxies, two of which I put in the gallery. This one's a bit dark but I lightened it for my records.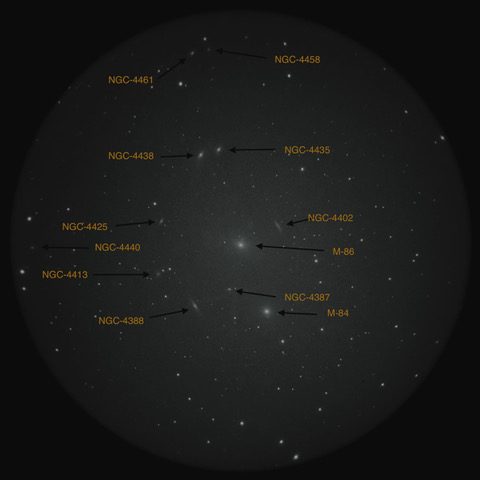 Dark sites give a whole new dimension to observing... with or without NV. If you have an opportunity to visit a dark site, take it! This was my 5th trip with the OFLI guys, but about my 20th dark site excursion. I have another already planned for late summer!
Edited by GeezerGazer, 12 June 2021 - 11:35 PM.