Hi folks,
My AVX mount has developed a very annoying habit. While guiding, the Dec axis starts running upwards (north), with PHD2's corrections largely ignored. The time between these runaway events ranged from 10's of seconds to 7+ minutes. Before I start digging into the mechanics or the software, where should I look?
Here's an example guide graph for the Dec axis from the PHD2's log viewer: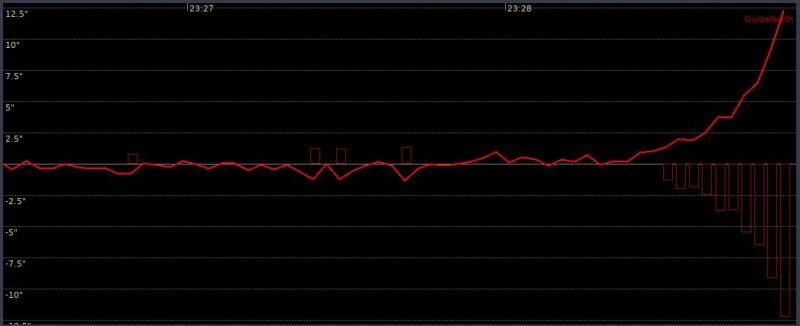 My polar alignment was very close (way under an arc-minute), so the Dec motor hardly needed to run at all, as seen in the guide graph. The AVX does not run the Dec motor on its own while tracking, however note the lack of an upward guide pulse at the start of the upward run. So it appears that the mount electronics decided to run off by itself, suggesting an electrical issue, not one where the software commanded an upward pulse and forgot to stop it.
But if this were something electrical having come loose or shorting, that doesn't explain everything. I'd stop PHD2's guiding, pause a moment, restart looping, select a star, and resume. That seemed to work for a while, then it'd go AWOL again. Why would stopping the guiding software have any effect if the issue were purely an electrical one? Also note that the upward slew is not linear; the downward guiding pulses from PHD2 initially had some effect, so the hand controller is not locked up.
The configuration is the AVX mount, connected via USB from the hand controller directly to a Raspberry Pi 4B running Astroberry, with PHD2 doing the guiding. A few days ago I started having an issue with PHD2 complaining that the guide rate had changed, and that I needed to re-do the calibration, which I did at the start of this session, but the runaway was happening before doing so. Software was updated before all this started (I was trying - and failed - to get a GPS dongle to help set the time and location), which has me suspicious, but as noted, I don't see how the software could be the cause. The only little flag waving in the back of my mind is that the target (M5) crossed the Meridian during the session. But the issue occurred both before and after that crossing, which discounts this theory, and the mount did not flip (which is normal behavior). But perhaps PHC2's correction pulses were somehow misinterpreted (after being correctly so a minute earlier), commanding more of an excursion instead of a correction? That kind of fits the shape of the graph.
Perhaps someone else can see something I missed.
Any ideas?