Second light for my ASI2600MC. Shot this last weekend in SE Oklahoma, bortle 3 skies. Seeing was pretty darn good. Started off cloudy, but I made the drive anyway. My ritual sacrifices must have worked because the sky cleared right around dusk and stayed lovely all night, then clouded up again just as the sun came up. Guiding was good at .6 - .7", perfectly good at my .97 pixel scale. I'm not happy with the star shapes (or the bit of bloat), but this was the first good night in more than a month and I couldn't bring myself to mess with tilt and backspacing. So crop crop crop and this is the result. I'll get the tilt and spacing worked out, then re-shoot this with more data, 15+ hours would be tasty.

Can't tell ya how happy I am with this camera. The raw stack from DSS was really nice with just an autostretch in PI. Not much processing was needed on this. Coming from a DSLR, this camera is a red cylinder of magic!
Pixinsight Workflow:
Color Calib
BG Neut
Slight SCNR
Gentle Deconvolution
MLT Noise reduction (this is where I'm still very unhappy with my results)
----- Histogram Stretch----- ( I experimented with ArcSinStretch but wasn't pleased with the result)
Gentle MLT Sharpen
Curves saturation.
Profit!

56x300s RGB
36xdarks
25xdarkflats
25xflats

AstroTech AT115EDT
AstroTech .0x flattener
ASI2600MC
Skywatcher EQ6R-Pro
N.I.N.A.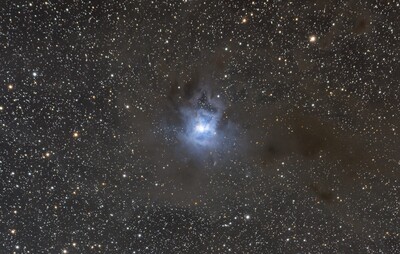 Link to Hi-res
https://www.astrobin.../full/o8o8mg/C/
Clear skies all!
Edited by KungFood, 18 June 2021 - 06:48 PM.