So there I was, sick in the outback. The horde of 15,000 that descended on the Red Centre for Finke brought some colds with them, and they've been working their way through my family like gum nuts through a cockatoo. And it was cloudy. A fitting weekend for feeling so crook.
But things opened up this afternoon. While the meteogram predicted clouds, the sky was a cobalt blue at sunset. A clear sky…just in time for a 61% moon. Figures.
So I thought to myself…what would Galileo do? Surely he wouldn't sit inside, dabbing at his raw nose, while a clear sky taunted him outside. So I assembled the 7-in and pointed it at the moon. Ironically, the most prominent feature through the finder scope was Copernicus.
I didn't want to do yet another mineral moon, so I decided on a LiveView capture of just the crater. I vacillated between the 12.5mm and the 18mm orthos; the 18mm did a better job of framing the full crater. And I did a set of RAW captures to add in some color.
For such a typically banal target, I was quite happy with the outcome: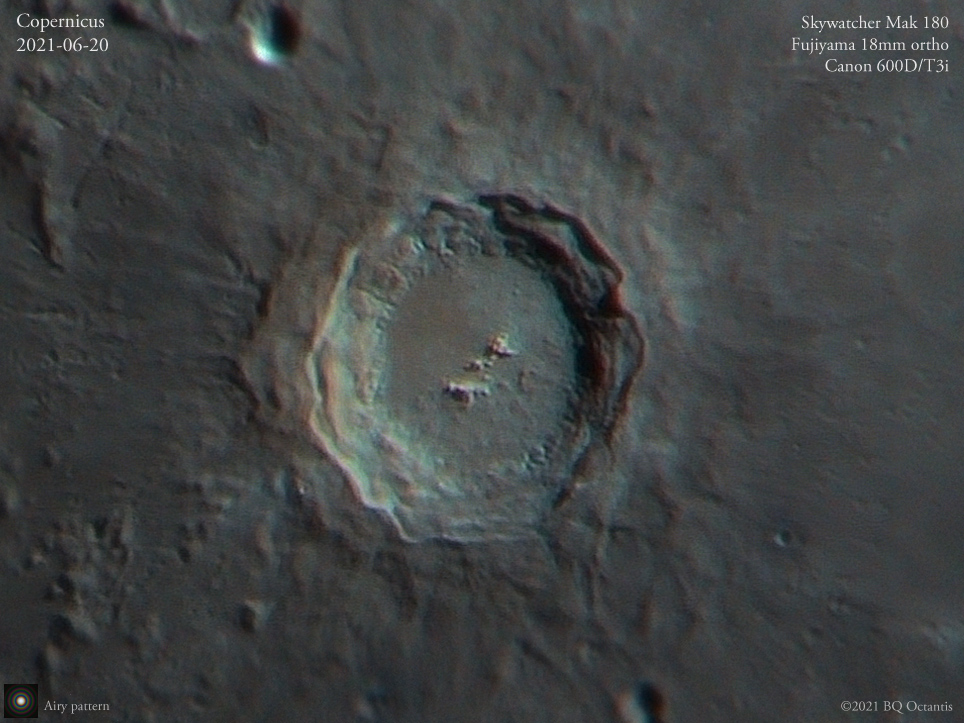 Cheers,
BQ