I might as well start a topic on the OB 25x100 Deluxe because I am totally fascinated with the darn thing.

I've had it for a few weeks now and fell in love with it pretty much from when I got it out of the shipping package. From my astronomy binocular collection several of the traditional binocular sizes stand out to me as ideal -- wholly a subjective thing, I just like them. Those are the 15/16x70 and 25x100 binoculars. The other size I have a serious commitment to is 10x50, but in that range I have struggled to find an instrument that suits me. The best in my collection is the Fujinon 10x50 FMTR-SX, but to make it more comfortable for me Nikon wing cup adapter rings need to be inserted in the eyecups. I find the eye relief too long given the eyecup size, exactly the opposite problem many observers experience I guess.
Anyway, back to the 25x100. The one thing I don't love about it is the eyepiece filter rings (sorry JG!). They have sharp edges and are not spectacle friendly. But Kevin sent me replacement focuser rings that do not have filter adapters (like those that come with the OB 20x65ED). Installing them was the work of minutes. The focuser rings are held in place with three set screws. The eyecups need to be pulled off to expose them. I positioned the rings at the + indicator (so all three screws could be easily accessed). Loosened the screws, removed the rings, slid the new rings in place, tightened down the screws and put on the replacement eyecups.
Replacement focuser rings before the eyecups were installed. One of the set screws is visible.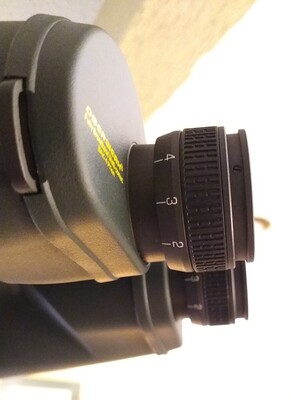 Replacement eyecups installed.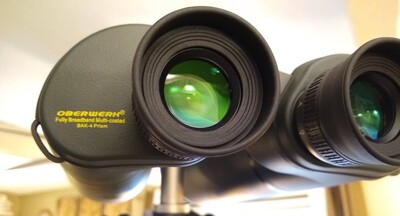 Original focuser rings w/eyecups.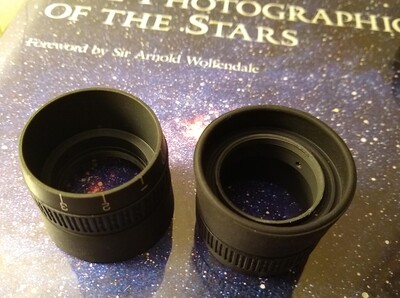 When installing the new focuser rings I made sure to align the plus symbol with the mark on the eyepiece barrel. It would be a simple matter to tweak the diopter scale settings by loosening the focuser rings and shifting the scale left or right as necessary to calibrate it at zero or whatever mark one desired.
Fiske
Edited by Fiske, 23 June 2021 - 06:56 PM.