Summary Easy: M29, NGC4631/4627, M20 and M8; Intermediate: NGC4567/4568, NGC5394/5395, M100 and NGC6888; Challenge: IC1340, NGC7380 and Sh2-132; Deep Southern: NGC6334 and NGC6357.
Easy: M29 (Cooling Tower) (20h 25m / +38d 36'); NGC4631/4627 (Whale Galaxy and pup) (12h 43m / +32d 25'); M20 (Trifid Nebula) (18h 04m / -22d 58'), M8 (Lagoon Nebula) (18h 05m / -24d 23') - Note: approximate JNOW co-ordinates.
M29 (Cooling Tower)
This small open cluster about 4000 light years distant in Cygnus is visible in the East after it gets dark and is an easy target for almost any set-up. M29 has about 50 members, but the brightest 5 stars making up part of the "Cooling Tower" are blue giants. The cluster is partially obscured by interstellar dust, and would otherwise be brighter. Here is a monochrome capture with my C8 @ f/3.7 (twin f/6.3 reducers) and an ASI290MM mini, with ASILive at high gain: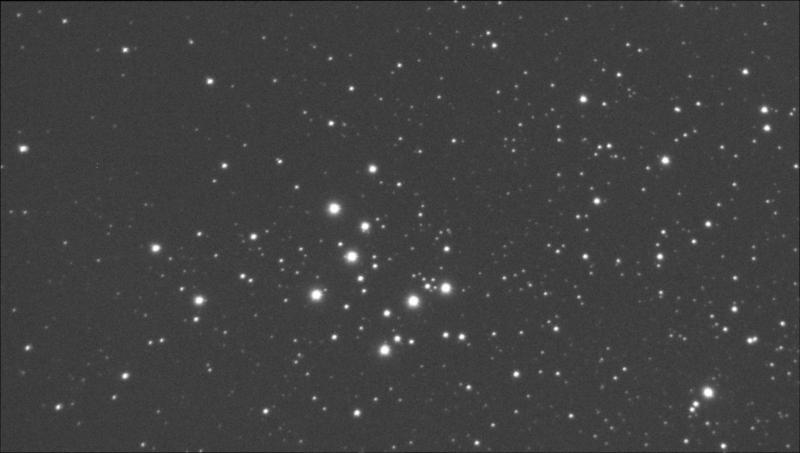 NGC4631/NGG4627 (Whale Galaxy)
Visible in the west after dark as galaxy season is winding down, the Whale (or Herring) Galaxy, NGC4631 is a large and bright edge on spiral about 25 million light years away in Canes Venatici. It has a small companion galaxy (NGC4627) which, on very deep pictures shows a tidal connection. Dark dust clouds and bright star forming regions in the disk of the Whale are visible in this capture (same C8 set-up as above):
NGC4631/NGC4627; 12 x 25s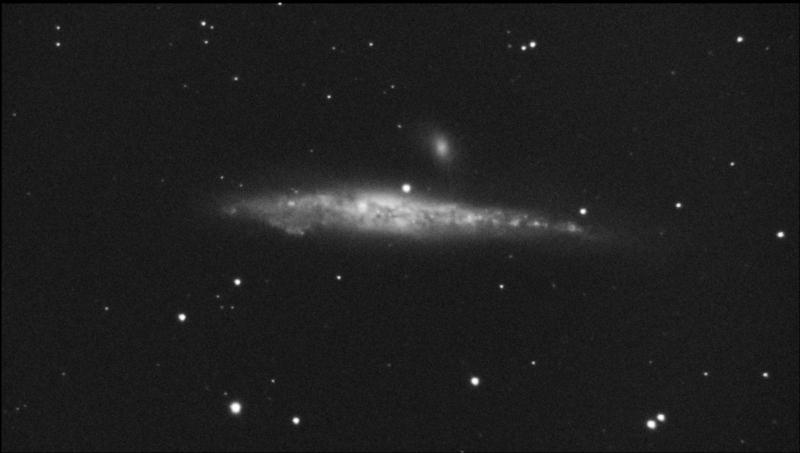 M8 (Lagoon Nebula)
The Lagoon Nebula is a large emission nebula about 5200 light years away in Sagittarius. It features an embedded open cluster (NGC6530) of massive stars, which are the source of ionization of the gas in the cloud, as well as dark globules of protestellar material throughout. There are several structures with the Lagoon that deeper views will show. Here is a recent 5 minute capture with a 72mm AT72EDII APO operating at f/4.3, using a 7nm H-alpha filter and ASI290MM at high gain. The H-alpha view shows many details in the nebula, including dark globules silhouetted against the nebulosity. This is a great target for a one shot colour camera due to its brightness.
M8; 12 x 25s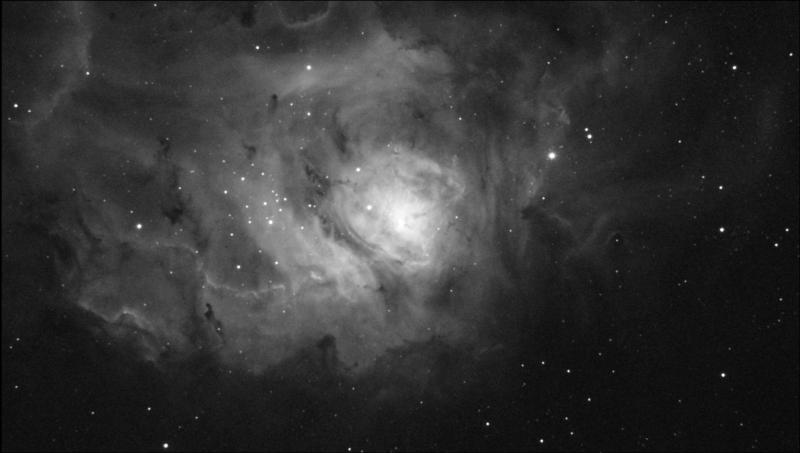 M20 (Trifid Nebula)
The Trifid Nebula is another emission nebula in Sagittarius, about 2 degrees from the larger and brighter Lagoon Nebula. It includes an open cluster at its centre and consists of a central emission nebula surrounded by a reflection nebula at a greater radial distance, and dark nebula giving it its distinctive pie-like appearance. Colour images show both the reflection nebula strongly in blue, and the H-alpha emission regions in red. Here are a couple of different views of the Trifid, both taken with an ASI290MM mini at high gain. The first is a mono image with a C6 @ f/3.9, while the second is a H-alpha wider view with an AT72EDII @ f/4.3, which does not show the reflection nebula: