Discovered in it's 1863 outburst by Norman R. Pogson, the recurrent nova U Scorpii was the first of its class to be discovered. And while we have been able to confirm at least 10 recurrent nova in our Galaxy, even the most seasoned amateur will probably only be able to name a few of them (the other three other most commonly known are T CrB, T Pyx, and RS Oph).
I missed the famous 2010 eruption where it reached at least magnitude +7.9 in the predawn hours of January 28th. In fact, I only learned about U Sco a few months ago while researching its more famous brother, T CrB. But while reading about it, I was excited to learn that in June of 2019 Bradley Schaefer – who made the excellent prediction of its last eruption – made the prediction that U Sco should eruption in 2020±1.6. He also made the prediction that T CrB should erupt 2023.6±1.0 and RS Oph 2021±6.0.
I was excited to learn that U Sco could go literally any day and started toying with the idea of starting an observing campaign on it. Then, last month, I reached out to Mr. Schaefer to see if he could give me any new information on when U Sco might erupt. He took a few weeks to get back to me, but when he did, he wrote:
"Well, the bottom line is that U Sco already went off in late 2016, at a time when it was behind the Sun. I have been desperately looking for any trace of a brightening anywhere, but none has been found. Rather, the proof has been that the O-C curve for eclipse times has suffered a sharp kink. Up until a few days ago, this kink might have occurred in either late 2016 or late 2017, but recent eclipse timings of Gordon Myers has just demonstrated that the kink was in 2016. So U Sco went off ~November 2016.
Every year, the Sun passes 3° south of U Sco, making it undetectable, even in eruption, for several months, so it is just randomness that U Sco's entire eruption (65 days long from start to end) would fit entirely within the solar gap of observations. The odds are about 15% that any one U Sco eruption will be entirely lost, and this has apparently happened before in 1927 and 1957."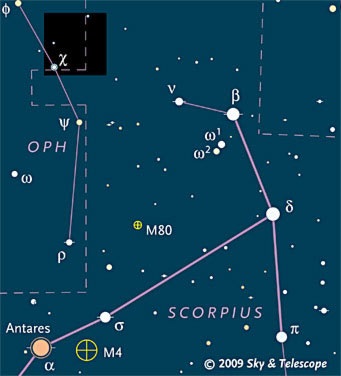 But he did say that U Sco will go off again around 2027. So, mark your calendars!?!
Scott