I have been involved with NV Phonetography since 2017. Until last year, I used an inexpensive phone bracket to connect my phone to my Mod 3C. Many universal phone mounts are sold, but they mostly have the same set of drawbacks. They each require mounting the phone in a bracket with a clamping mechanism, precisely centering the camera lens over a hole. They are then applied to the NV ocular with a separate clamping mechanism. The biggest issue involves slippage of either clamping system which throws the system out of alignment and ruins photos.
About a year ago, CNer JoeLin posted about using a Ulanzi phone case that has an M17 screw-in port in front of the phone's backside camera lens (not the front selfie lens). Ulanzi makes these cases specifically to attach supplemental lenses over the 1x lens on phones. They sell a complete line of supplemental wide, anamorphic and macro lenses for phone cameras. Joe had used "off-the-shelf" adapters to attach this phone case to his NVD ocular. This system solves two big issues. First, it eliminates all clamping mechanisms while putting a phone in the case automatically centers the camera lens precisely. Second, the camera lens was perfectly perpendicular to the image axis. I liked that this system permitted a direct, screw-on connection to the NVD, by removing the metal ring on the NV ocular which is used to attach the rubber eye guard. Ulanzi made a M17 to M52 adapter and Joe used it with two other adapters to attach it to his NVD.
I was communicating with CNer Longbond who also was interested in this approach. We designed an M17x1mm to M30x.75mm (Male to Male for closest connection) adapter and contacted RAF Camera in Belarus for the custom adapter. We had our share of problems with guessing thread pitch on both sides of the adapter, but eventually we got it right... after purchasing a thread gauge. Then we had RAF camera make an M30 flat ring that could be used on the ocular side of the adapter to lock the adapter in place so it did not rotate accidentally with offset camera weight. I purchased a Ulanzi camera case for my iPhone XR, used it and liked this system a lot. Then we had RAF make more adapters including M17 to M42 (both male and female versions). An off-the-shelf M30 to M42 adapter is readily available on Ebay for the ocular side, and allows for different connections to be made with different devices.
In the fall of 2020, I purchased an iPhone 12 Pro Max and ordered a Sandmarc phone case which has two M17 ports over the 1x and 2.5x lenses. Sandmarc also makes supplemental lenses to expand phone camera capabilities.
In January of 2021, I ordered a completely new adapter from RAF made for an M30 to M37 connection for a new, heavy duty phone cage that is used mainly by phone videographers. It is made by Beastgrip, and is called a BeastCage for iPhone. In this system, I can attach a range of supplemental lenses, including two which have proprietary bayonet mounts, to the phone or I can use the larger M37 connection to attach it to the NV ocular. I like this one the best, even with the extra weight of the much heavier cage. I use the cage specifically for photography with the iPhone, and for NV Phonetography.
An Unexpected Problem: During the process of having the original M17 to M30 adapters made, I sent one of the adapters to JoeLin to try with his Ulanzi case. The M17 x 1mm threads fit the Ulanzi case fine, but the M30 threads did not fit the ocular on his NVD. The threads were too loose, so he could not make the phone secure. Joe explained that he had purchased after-market oculars to make them identical because he sometimes uses his two Mod3C NVDs as a binocular pair. Thankfully, the M30 connection does fit both Longbond's and my Mod 3C (and my Micro) perfectly.
If you have an adapter made, I would suggest checking the threads on your NVD ocular to ensure that they are M30 x .75mm. A thread gauge on Ebay is cheap compared to having an adapter made with the wrong dimensions.
Costs? Most of RAF's adapters are ~$25-$30 and take about 2 weeks or less to make, with shipping from Belarus also taking about 2 weeks (even during COVID restrictions). The phone cases cost $10-$40 and offer modest protection for the phone. The BeastCage is ~$140, but is not really necessary for NV Phonetography. I like carrying my phone as a camera (in place of a heavier full-frame or APS camera). The BeastCage makes the phone a lot more versatile as a camera and for videography, allowing the connection of a shoulder strap, supplemental lenses, a microphone, LED lights and filters. I use a CPL filter quite often over the native lenses and it does improve my landscape images by cutting through haze and revving up color a bit. Although the BeastCage is heavy, it offers supreme protection for the phone and is well designed for convenience. I made a wood handle that makes the phone feel more like a regular camera and added a knob to wrap my thumb around for a very steady, two-hand hold. Below are some photos. There are on-line YouTube reviews of the phone cases and cage. I will never again use a clamp-on phone bracket!
Here are links to the product pages of the 3 companies mentioned. Ulanzi :
https://beastgrip.com/ (iPhone only)
https://www.sandmarc.com/ (iPhone only; includes a case for free with any lens purchase)
https://www.ulanzi.com/ (makes cases for a variety of phone makers; find them under "Lens", "Phone Lens Case"
Below is a photo of the Ulanzi Phone case for iPhone XR and the Sandmarc case for iPhone 12 Pro Max with several of the adapters made by RAF camera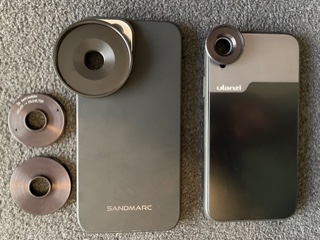 This is the BeastCage attached to a Micro NVD which is attached to a camera lens with 2" 3.5nm rear-mounted H-a filter between the lens and the NVD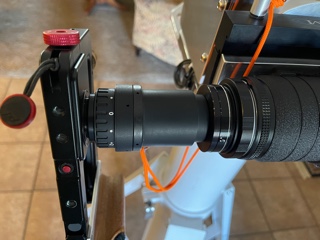 This is an empty BeastCage with shop-made attachments fashioned from wood & aluminum