Tonight sky was great.
Seeing, transeparency was all good (sub excellent) , even the atmosphere stability was extraordinary to continue full 3 hours observation in happiness.
l observed for 2 hours Saturn, for 1 hour Ganymede.
By the help of full 2 hours seeing stability l could find the nature of the B-Ring Ansae.
Never seen this nature before
On this night l saw 2 different things at the ansae.
First , l saw the gradual gradient shadow of B-ring ansae [GGBA ] not only at the ansae place but also l saw it
continues to stretch around whole beyond ansae place where inner B-ring meets C-ring.
Second, l saw the GGBA stretchs not 20~30 % of B-ring's width but 80~100 % of it.
most observers see or saw 20~30% GGBA ( so do l untill before).
..............most important; l saw this [Second thing] for full 2 hours.....No illusion...!!
For Ganymede
l saw various dark shimmering changing detail like as x, z, y, t, ...shapes....but [Y] was most dominant.
Nagler 3.5s onto bino viewer at x1050 high power performed most effectively....at this power the moon's limb was
still sharp. x770 with Nagler 4.8 works well but x1050 was better to me to see the dull detail.
===============================================================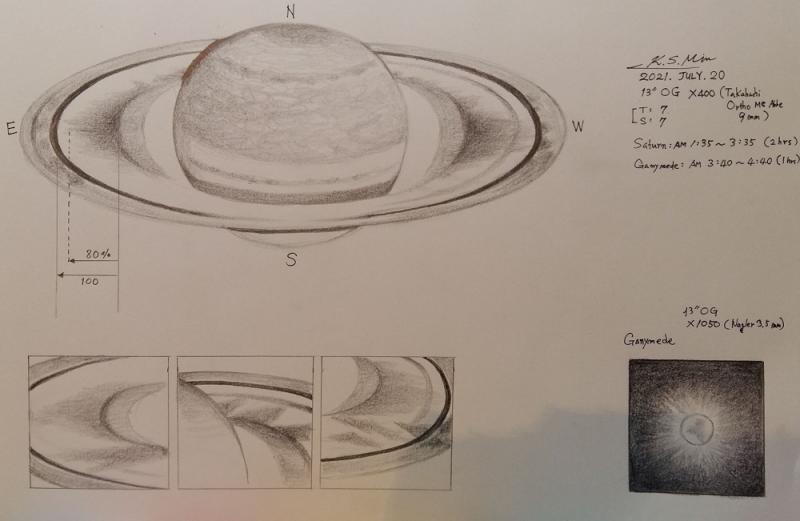 Edited by k.s.min, 19 July 2021 - 06:57 PM.