I started doing Astrophotography about two years ago, and this was my third project focusing on M16. The Eagle Nebula has been a favorite of mine ever since the Hubble Telescope immortalized it with the famous "Pillars of Creation" shot back in 1995.
My first attempt was back 2019 - within a month of getting my first imaging rig. It was - shall we say - less than perfect..... Ok it was pretty rough:
But it did not matter to me one bit - I could see the "eagle" and I was elated!
In 2020 - under Covid lockdown - I tried it once again. Two nights of data collection (a first for me) and some careful processing with Pixinsight (which I was pretty new at) and a whole year of experience under my belt - I was pretty proud of this effort! It was an "improvement" - I was making progress:
Now we come to this year. I now had a scope with slightly longer focal length, a brand new ASI2600MM-Pro with a full set of filters, and I now had two years under my belt( just feel the gravitas..) - this was going to be the ONE. I planned on 4-5 nights of capture and I would doing Narrowband capture on M16 for the first time (yay! Hubble Palette!). It was going to be...EPIC.
Then the Rochester, NY Monsoon season started. I did not even know Rochester had a monsoon season - but this year, it DOES.
With the trees on my property I can only get about 3 hours of subs for any given object for one night - thus I was planning on many nights. I started on the 4th of July and picked up 2 hours of subs before the clouds moved in. Then I waited for clear skies to return. And waited. Twice I was all set up in the driveway ready to roll with what looked like clear skies when the clouds again moved in. Finally last wednesday we had a chance - just a chance - of a clear night. We still some thin clouds coming and going AND the smoke plume from out west had finally passed over Rochester skies -but I was desperate as the moon was coming and M16 was getting out of reach because of my tree line.
So I went for it. I got about two more hours of before thin clouds shut me down. Again.
So four hours of questionable data was what I had to work with, I had no choice but to do some very careful processing. I managed to keep more subs that I would usually do by leveraging the new NormaliseScaleGradients script (It did a marvelous job!). I carefully tweaked ImageIntegration so that I had my rejection parameters really doing their job. I gained a lot from a very careful application of Deconvolution and using a few tricks I had picked up from the Adam Block Studio video series. I used Mure noise reduction for the first time and it did a wonderful job, After two and half days of obsessive image processing (why process it one way when you can process it 4 or 5 ways at every step and see what looks better!) I finally got a result which was not too bad given the challenges and poor data. I had a lot of problems with star images but I think I managed that (they are still ugly - just less so).
So after a miserable season so far - I was reasonably happy with result I got.
But next year - that's going to be the year I really do M16 justice! Watch out Hubble, I am coming for you.... ;-)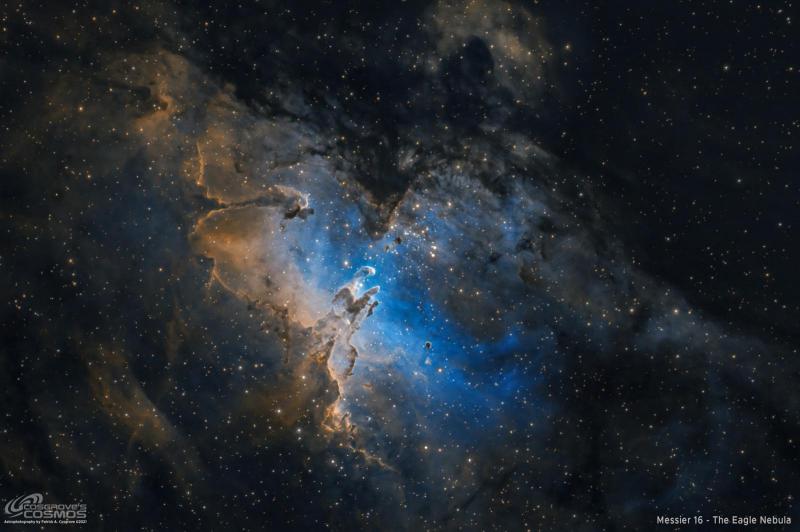 Full Res version can be seen at: https://astrob.in/4g6jw4/0/
Thanks for looking!
PCos
----
Capture Information
Lights Frames
18 x 300 seconds, bin 1x1 @ -15C, Gain 100.0, Astronmiks 6nm Ha Filter
14 x 300 seconds, bin 1x1 @ -15C, Gain 100.0, Astronmiks 6nm OIII Filter
15 x 300 seconds, bin 1x1 @ -15C, Gain 100.0, Astronomik 6nm SII Filter
Total of 3.9 hours
Cal Frames
30 Darks at 300 seconds, bin 1x1, -15C, gain 100
25 Dark Flats at Flat exposure times, bin 1x1, -15C, gain 100
Flats done separately for each evening to account for camera rotator variances:
25 Ha Flats
25 OIII Flats
25 SII Flats
Capture Hardware
Scope: Astrophysics 130mm Starfire F/8.35 APO refractor
Guide Scope: Televue 76mm Doublet
Camera: ZWO AS2600mm-pro with
Filter Wheel: ZWO 7x36 Filter wheel
Filters: ZWO LRGB filter set Gen II
Astronomiks 6nm Narrowband filter set
Guide Camera: ZWO ASI290Mini
Focus Motor: Pegasus Astro Focus Cube 2
Camera Rotator: Pegasus Astro Falcon
Mount: Ioptron CEM60
Polar Alignment: Polemaster camera
Software
Capture Software: PHD2 Guider, Sequence Generator Pro controller,
Image Processing: Pixinsight, Photoshop - assisted by Coffee, extensive processing, obsessive focus (who needs sleep - I pixels calling me), massive indecision and second-guessing, editor regret and much swearing…..