It seems like just about everything in this hobby is a journey. For me, owning a RASA 8 is a part of that journey. It's both a joy and a challenge. I like my RASA 8. In fact, I would even say I LOVE it. But wow - I would have to imagine that it's about like having a loving spouse who is beautiful, playful, picky, stubborn, and WAY moody all on the same day. Here's what I'm learning so far about backfocus, image sensor tilt, and CCD Inspector, in no particular order, after 7 months in the journey:
1) Don't pass up the journey with an f/2 scope just because the critical focus zone (or CFZ) is measured in microns. (CFZ is the distance encompassing the range of focuser positions for which the telescope's image will still perceived as being in focus. "Depth of field" is actually a related term in normal photography, so to speak.) But don't take on an f/2 scope if you are faint of heart. If you're curious about calculating critical focus zone, remember, you can calculate your CFZ by using this formula:
CFZ (in microns) = focal ratio2 X 2.2
The bad news, as you can see by glancing at that equation, is that... as the focal ratio becomes a smaller number (representing a larger aperture for the scope and, thus, letting in more light more quickly and more efficiently), the critical focus zone gets smaller exponentially. It's an INVERSE square relationship. It's not just slightly harder to find focus. It's exponentially harder -- literally. The good news is, if there is any, is that, fortunately, in the real world, it is said that the CFZ is actually perceived to be 10-30% greater than the theoretical values. Awesome. I'll take all I can get. I need it. (I'm the one that puts the "A" for Amateur in the phrase, Amateur Astronomy.) This basically means that instead of 8.8 microns, the CFZ on a RASA 8 is actually more like 11 microns. That's 11 millionths of a millimeter or .011 millimeters. To put that in a different perspective, that's less than 1/2 of 1/thousandth of an inch. A human hair is around 17 to 70 microns thick. To focus a RASA, you have to be so good that you can rack it down to 1/2 of the thickness of a human hair.
2) If your image sensor is slightly tilted (say, by the thickness of a human hair), then one end of your image is going to be completely out of focus. Wait. Let me put the word "completely" in bold. One end of your image is going to be completely out of focus. hahahaha I'm not kidding. The thickness of the felt strip on the back of the stock camera adaptor/holder for a Celestron RASA 8 is WAY thicker than a human hair, sadly. If that felt wears down by 50% on one side of that adaptor plate, welcome to the world of wacky star shapes. They'll look like seashells, chevrons, arrows, shrimp, or -- worse -- they'll just look, in general, like malformed blobs.
3) If your image train is at all mixed up - say, by the width of a human hair? -- maybe because one of your spacers has threads and the guy who machined it didn't happen to run the threads as deeply on your part as he did on the last part, your backfocus is going to be off, meaning that your image will no longer be projected on a flat plain. Instead, corners, edges, and maybe the entire image will be puckered, warped, and mis-aligned.
4) The focusing mechanism itself (deep inside the portion of a RASA's "business end" -- where the primary mirror is held) can, itself, "shift" or slightly tilt the mirror. Remember, all it takes is 1/2 the thickness of a human hair.
5) CCD Inspector is a piece of software that can measure, expose, and illustrate how bad your image really is. So basically, you're paying $179.95 to purchase a really bad day. : ) The GOOD news is, CCD Inspector is available as a free trial for 30 days. The BAD news is... Wait... let me put the word "bad" in bold. The BAD news is - it will take you longer than a month just to underSTAND your RASA's tilt, let alone address it. (My thinking is -- conspiracy theorists will eventually determine that the Celestron RASA's development costs were totally sponsored by the makers of CCD Inspector.)
6) With CCD Inspector, it helps to have a wonderfully-rich star field of equally distributed and equally bright stars. Finding that is like looking for a needle in a haystack. The best star field I've found is to center on the random star, HD 192911 (which is near Sadr). No other star field in the sky will work. (hahaha I jest. But that star field DOES seem particularly good.)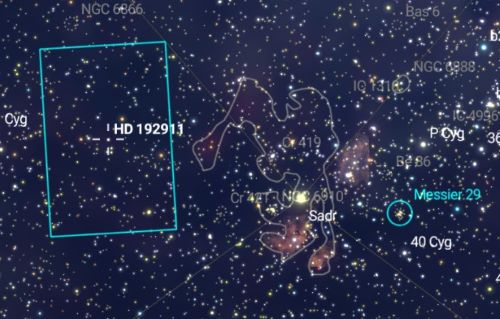 (Above: The star, HD192911, just happens to take us to a field of view that CCD Inspector really seems to like. Please make a note. : ) In this image using Sky Safari, the field of view rectangle is that of a ZWO ASI2600MC Pro imaging through a RASA 8.)
7) With CCD Inspector, it helps to take 5 images for each position or change that you'd like to test. (By that I mean - every shim, every spacer, every slightly-turned device, every adjustment - essentially, everything that's keeping you from doing the observing you wanted to do but can't yet because your stars still look like shrimps.) It helps if those 5 images are slightly different exposure lengths. For example, 10 secs at gain 300, 20 secs at gain 200, 30 secs at gain 200, 30 secs at gain 100, and 20 secs at gain 100. Then open those five images in CCD inspector's image list, highlight them, then click on the "Curvature" button to determine your imaging train's percentage of curvature at any given position or adjustment.

8) With CCD Inspector, it helps to keep track of your adjustments. For instance, Octopi-Astro recently contacted me to ask if I'd beta test their new camera holder device for the RASA 8. (Yes, I knelt in prayer to give thanks to God.) We've gone through a couple of design changes with them and I had to ship one of my RASA 8 parts to them so they could spec out one of those design changes but, the great news is, they've developed a design that essentially allows a RASA 8 owner to (almost) infinitely adjust for all these values -- backfocus and image tilt included. I'm still learning to USE that device, mind you - but I truly believe the potential is now there to fix all these problems. Wait. Let me bold the word "all." The potential is now there to fix all these problems... permanently. Here's a chart from last night's callibration testing session: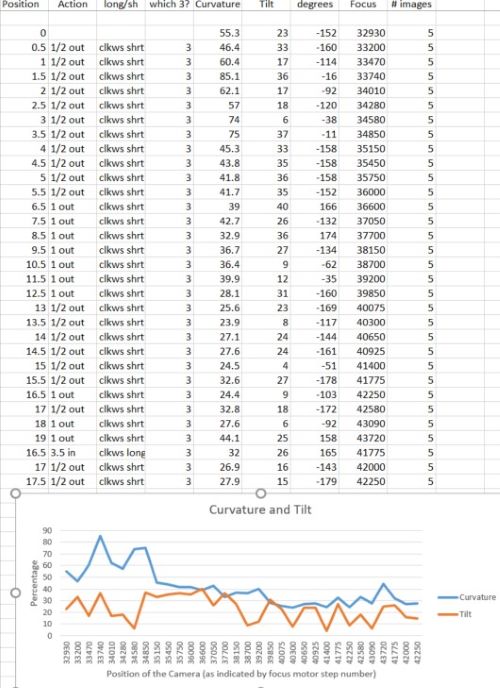 It seems like the key columns to include would be
Position (I arbitrarily named each position according to the changes on the adjustment screws. But just today, Octopi-Astro suggested I start using a Vernier caliper tool to measure the "push" screw on their device to determine a more tangible "name" for the position. I'm really looking foward to that prospect.)
Action (the adjustment it took to get to the measurements in this row) - for example, 1/2 turn "in" or 1/4 turn "out"
Which adjustment screw I adjusted to get there.
How many screws (e.g., in the case of backfocus, it's usually all 3 adjustment screws)
Percentage of Curvature measured for this position
Tilt for this position
The direction of the tilt (as reported by CCD Inspector)
The readout of one's focus motor (which is more or less essential for this entire process).
The number of images used for these measurements. (For me, it was consistently always 5.)
At the bottom, as you can see, there's a graph illustrating the changes in curvature and tilt.
9) It's helpful to focus on backspacing first. (Pun intended.) We shouldn't worry about tilt until backfocus of "around 20%" has been achieved. My new rule of thumb is "around 20%" means anything near 20%. Wait, let me put the word "near" in bold. : ) hahahaha Anything near 20% is, from now on, fair game. For example, after working on this for three nights, with an average of 5 hours each night in testing, if I can just get back to position 13.5 with a focus of 40300 -- or position 15 .. or anything close to it, I'll be in backfocus heaven.
10) Astronomy is a journey. Enjoy the journey - or it might drive us all crazy. haha (By the way, if I can find position 13.5 or position 15 or ANYTHING close to it on the next clear night, I'm going to observe, not test. Note "observe" is in bold.)
Once Octopi-Astro has finalized this device, it'll be available at their website at https://www.octopi-astro.com/. Make no mistake: Octopi Astro's parts are machined at incredible levels of precision. (Wait... let me bold incredible. Truly.) Their customer service is amazing. I don't know what this camera holder is going to cost. But RASA lovers who love their RASA will want this for Christmas -- there is no doubt. They didn't pay me to say this. In fact, they didn't pay me at all. In fact, the deal they presented was - if I decided to keep the part, I'd have to pay at least for the parts. But the truth is - RASA lovers are just going to want this. This is the set of adjustments we have all wished for on a RASA 8. Artesky filter holders are nice. But they let us adjust exactly zero factors. (Wait - let me bold the word zero.) The Octopi-Astro device is going to let us adjust everything, including lateral placement of the camera. I'm guessing the device will be available soon. Octopi-Astro seems determined to serve this need.
For more on CCD Inspector, visit https://www.ccdware....s/ccdinspector/. My next step with their product is to learn to use the Aspect Ratio Mapping tool.
For a video discussion about all these factors, see this Youtube video, below. I suggest you watch it on some kind of device that will let you watch at 1.5 speed or something similar, because it took me about an hour to talk through all these issues and demo the work flow at the telescope in the field under the stars.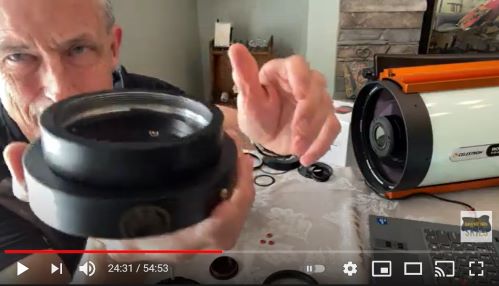 https://www.youtube....h?v=or7jRVgcgGE
Thanks to CloudyNights for being the greatest bunch of guys under the stars - to inspire me when I'm frustrated about sensor tilt! : )
Edited by EmeraldHills, 21 July 2021 - 11:06 PM.