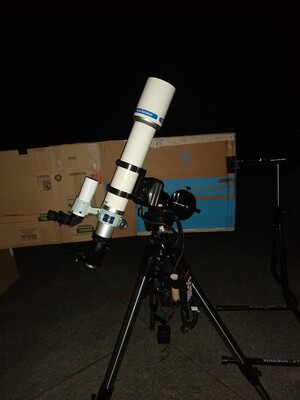 My new FC-100DF is a beauty for sure. The weather hasn't been good for testing her but last night the seeing was average so outside she went.
Even with a nearly full moon, the wonderful contrast came through. Can't wait to see her perform on a dark night.
However, the star test was disappointing. I could not get an evenly illuminated first diffraction ring, even when the air steadied for a brief second or two. In fact, at times the first diffraction ring disappeared from the top edge of the airy disk, leaving only the bottom of the airy disk pattern showing a diffraction ring or rings.
I should mention that I was checking the star pattern at focus. The pattern inside and outside of focus looked the same to me. Stars used for testing were Vega, Deneb and Eltanin.
Occasionally, the first diffraction ring would appear whole and complete for a split second and then the diffraction pattern would dance around again, leaving the top side of the pattern without a diffraction ring while the bottom portion would show the moving diffraction ring or rings.
To me, it seems that in less than good seeing when the diffraction pattern is fading in and out, it should do so evenly, so that diffraction rings are fading in and out equally on all sides of the pattern. But, I may be totally wrong about that!
Hoping the many experts on CN can provide some guidance and comment on their experience.
Thanks in advance everyone.
Edited by Orion68, 23 July 2021 - 06:11 PM.