One of the things that has kept my interest in astronomy alive for 57 years is to slow down and observe. That means more than a quick glance and say "there it is - another faint fuzzy". And go-to the next target. Don't get me wrong. After decades of star-atlas and star hopping my 75-year old body very much appreciates the convenience of modern electronics. But amateur astronomy can be different from coin or stamp collecting. While life lists of our observing collection can be useful, repeated observations can also be most interesting. I try to avoid the "been there - done that" mind-set. Especially for the sky's best (think Messier, Caldwell, etc.) repeated observing is well worth the effort.


So what do I mean to "observe". Well, whatever observing conditions you have, keep looking and compensate as best you can for unfavorable circumstances. And take note of how you see more with extended scrutiny. Protect your eyes from extraneous light, including the iPad screen or flash light used to see the star atlas or other printed observing aids. Remember it takes time for your eyes to recover night vision after light exposure - as much as 20 minutes. We all have differing light pollution regimes at our observing sites. Just make the best of what you have. Even in a bright sky there is more to see than we have time to see it. Just enjoy observing without being rushed.
Back on "observing". Extended scrutiny is most valuable in this regard. First, on a single night, keep looking at your subject. Take note of how details initially invisible are apparent as conditions change - for example how long since extraneous light impacted night vision. Sky transparency and seeing are things that can change as you observe.
Also train your eye to see what can be seen, that is improve your observing skills. This takes time and effort. I have little doubt that some things I can see with a trained eye are completely invisible to the untrained eye. Objects seen near the limit of a trained eye (i.e. "faint fuzzy") will be unseen by another who does not have an eye trained to use averted vision. And that ability is something that is acquired by practice and experimentation. An example is where in your eye's field of view is the "sweet spot" where averted vision is most effective.


Another thing that has kept my interest alive for so long is to keep a record of what was observed. At first in my case this was a written record with ball-point pen on sometimes dew-dampened log book. This can admittedly be difficult, since some light is needed to see what you are writing. Over 4 decades this method has filled two logbooks of memories from the past. At some point I transferred all written records to an Excel spreadsheet. Therein is recorded such things as date, location, observing conditions, instrument, object, magnification and observing notes. At present my spreadsheet has around 4100 individual entries that can be examined to benefit on "cloudy nights". The list can be sorted by date (now from 1957 to the present). Another useful sort is by object, where all recorded observations over the years for a single object are shown sequentially. This shows how observations have changed depending on observing conditions, OTA, observer skill and other factors. 

In later years what has vastly improved my records is using a digital voice recorder at the eyepiece. During extended scrutiny what is progressively observed is captured. Later when back inside at the computer, these voice recordings are transcribed and edited for clarity and conciseness. Here are some examples:
Here are some of my last observations with an ascending date sort.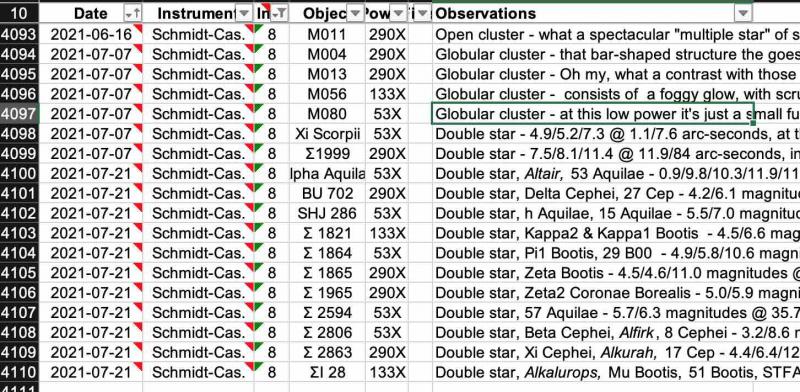 Here is part of the entire spreadsheet sorted by object. Observations of M80 are shown.
The highlighted cell contains my entire recorded observation for that night. Only part of that is visible. But here is the entire observation of M80 that was transcribed from the voice recorder into that cell:
Globular cluster - at this low power it's just a small fuzzy glow with a real bright center, no individual stars are seen, @ 133X I'm starting to see a little granularity, there's a 9-10 mag. star about 1/2 the radius from center, this helps with focusing, with extended scrutiny there are a few individual stars seen, @ 290X this little guy is showing a lot of little stars seen w/ AV despite low elevation and so-so seeing, even the brighter core has some lumpiness evident, there are a few very faint stars visible that come and go with the seeing, but the cluster is resolved except in the core, there it's just lumpy, but it is very bright there, there's a 12th mag. star 1/2 way between cluster and previously mentioned 10th mag. star, there are a few scattered field stars, I get the sense that at least the brightest central region is a bit elliptical, also the core may not be exactly centered on the outer envelope, but this is a pretty nice view
So the above shows the utility of capturing observations in a spreadsheet. Others have found various astronomy apps useful for the same thing. But the Excel spreadsheet is just what I started using some years ago and have stuck with it.
Another thing I find interesting is not only observing what can be seen, but also considering what is known about the subject. SkySafari or other astronomy apps can be most useful in this regard. Reading about your subject can occupy part of the time you spend while regaining maximum dark vision.
Anyway I thought I'd share with the forum what has enabled me to keep interested in astronomy even after over 5 decades. My physical stamina is not what it used to be. Usually it's just an hour or so of observing before I call it quits, especially during the summer months when it gets dark so late. Another thing that helps is reducing the time and effort needed to set up for observing. My permanent pier-supported Losmandy G-11 mount resides under a Telegizmo 360 cover during the day. When the cover is removed, the counterweight and shaft are in place, balanced for the OTA to slide in the dovetail. Usually I use a C-8 for its lighter weight, instead of the much heavier C-11. Yes conditions change over the years. Just make the best of what you have.
Best Regards,
Russ
Edited by Rustler46, 24 July 2021 - 04:58 PM.