Recently I purchased a Zhumell Z114 for the wife to use as at 5 foot she struggles to observe with the XT8. Tried a pair of Celestron binoculars, but they were so horribly miss-aligned I returned them immediately. Had heard good things about the Z114 and decided to give it a try.
When the scope arrived, I didn't have much hope it had survived the UPS shipping gorillas.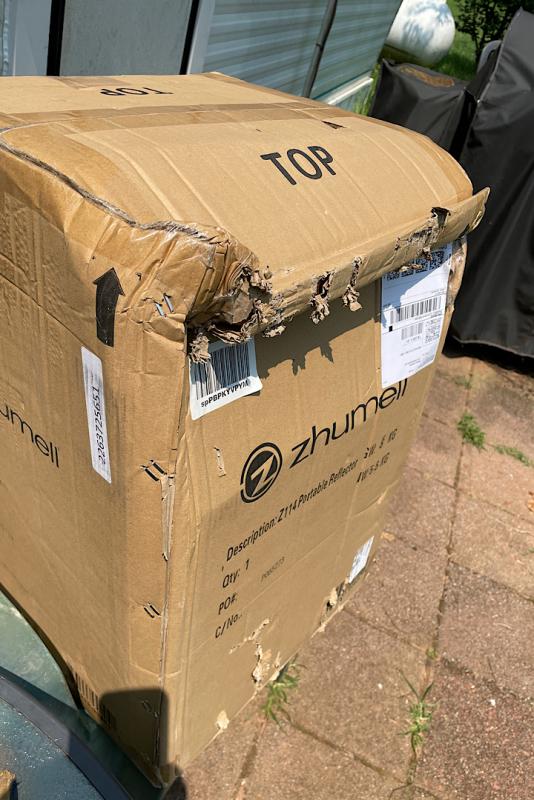 But when I opened the box, even though the scope had been bounced around there was not a scratch on it. I checked collimation with a laser, it was nearly perfect. I checked that the secondary end was round with a micrometer, it was within 0.007". Pretty impressive! If the Z114 survived that box unscathed, it bodes well for using it as a travel scope.
Made some minor adjustments to the main mirror collimation - it was shipped without the stop screws tightened, probably a good thing - and did some daylight tests. Unless otherwise noted, all my tests were conducted using my Celestron 8-24mm zoom. Since I upgraded my lenses for the XT8, the Celestron Zoom has been collecting dust. It proved to be a good match for the Z114.
Daylight tests gave sharp images at all powers with the Celestron zoom. There was some ghosting of the secondary mirror, but that was not a surprise with a pretty fast scope. The true test came after dark.
That night we set up on our glass patio table, not the most solid option but the best available. As the moon was full, we began with it. Even though conditions were not ideal - East Tennessee haze plus smoke from the western wildfires - we still got some good images. Once Jupiter came over the trees, we switched to it. That was when the Z114 blew me away.
We started at 24mm and worked our way down. Every step down to 8 mm produced an image that rivaled my XT8. Since we had a good image at 8mm, I added my Celestron Omni Barlow. Still a clear, sharp image. At that point I switched to my Meade PWA 4mm, same clear image. Then I added the Omni 2x Barlow. It took a bit of work to get focused, but eventually got a nice image of Saturn at 235x power under less than ideal conditions with a $150 scope.
Reset with the Celestron Zoom and Omni Barlow and within 15 minutes the wife was proficient enough to find Saturn, adjust the zoom and get a clear focus. And that is the first time she hard ever operated a scope.
No, the Z114 is not perfect. The focuser is cheap and wobbly and the laser finder is way too bright and hard to align. The finder also bolts down rather than using a standard dovetail. I can work with these issues, however. The optics - the most important bit - appear first rate and the dob mount works smoothly. The whole setup is only about ten pounds and stores set up on a shelf in my garage.
In my opinion, the Z114 is a fantastic value, not only a great beginner scope but a nice little portable as well. The Celestron Zoom and Omni Barlow are a great match for this scope, I would highly recommend them. Oh, and the end cap has a removable plug which allows adjusting the secondary with the end cap on. It is also useful for letting the scope air after a humid night of observing.
Now I have only had one night of observing with the Z114, but so far I am very impressed. It probably won't replace the XT8, but it might replace my 102 Mak!