Last night was quite a bit less smoky than it has been lately, so I decided to spend a couple hours feeding the mosquitos on a work night... M8 is one of my favorite objects, quite possibly because it's one of the first things I accidentally captured when I stuck a DSLR on a star adventurer last August and pointed it south.
I used a dual-band filter and processed it in APP (I'm really liking the new star reducer tool in the new APP -- if only I knew what I was doing with it) using the "extract Ha" and "extract OIII" tools and recombining them, which I am still learning. Seems no matter how I messed with the sliders while recombining, I came out with an image that seems a bit orange to my taste. At least without turning the stars purple or other psychedelic effects. Is this normal? I first ran it through as a normal OSC image, just to see what I had, and it came out very red, as I am used to, with some blue around the Trifad. I still like it, but I spent quite a bit of time trying to make it more red, without a lot of success. I didn't get the framing quite the first session three weeks ago, but now I'm committed to it unless I want to start over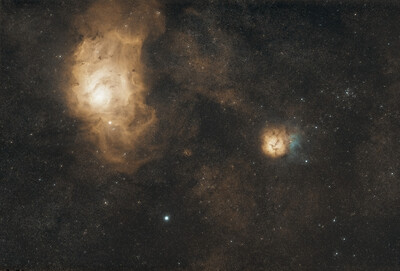 36 X 300 seconds, using the equipment below...
Suggestions welcome