Here is reprocessed Saturn from last weekend. AP's selected using Daryl's technique described in his post. R6 settings per Daryl's tutes on his webpage. Color balance using Andrew's color posts during the past few weeks (especially I remembered to add the 10% blue after RGB balance in R6). Numerous other suggestions from reading other posts in this particular room in the forum.
This is a 10 image derotation of images taken early in the morning 7-25-21. Each image is a 1% stack of 13,800 frames (1.5x drizzle) taken at Gain = 400 and 13ms for a rate of 76 fps. AS!3 and R6 as described above. AstraImage using for simple deconvolution, curves, and denoise. Image resized to 67% in AstraImage prior to denoise being applied. Canvas size adjusted in PaintShop Pro 2021. With a final bit of high-pass sharpen and gaussian blur before saving the image as JPEG.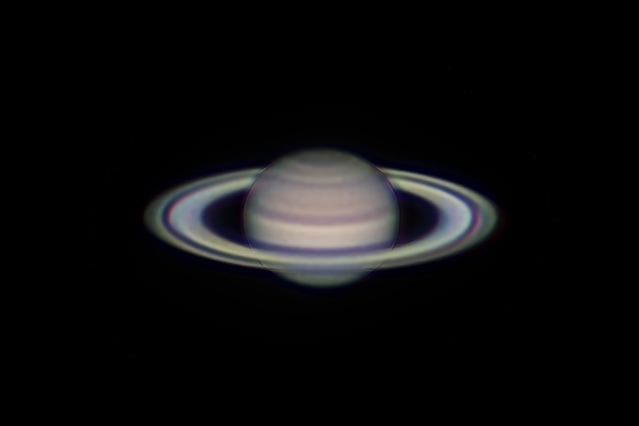 Even though the data is still not great this is by far the best Saturn I've been able to achieve since joining the forum.
Yes I still need to collimate the scope but the weather has not been cooperating. However, just about all of the artifact on the rhs of the Cassini Division has been eliminated by the stacking and wavelets procedures adapted from above.
Edited by dcaponeii, 28 July 2021 - 06:46 PM.