Greetings fellow Stargazer's...catchy name, isn't it?
My monthly foray for this month will include some very delightful cosmic gems in the form of Planetary nebula (PNe), my favorite type of object to observe and EAA observe! When I started out years ago, back in the middle 80's, I got my first real big telescope, an Odyssey 13.1. I really liked that scope and I made my first attempt to hunt down the Abell planetaries with it. I observed visually about 32 of the 84 PNe using just eyepieces and a UHC/OIII filter. While I was doing that, I discovered my favorite planetary nebula, Abell 12, right next to Mu Orionis. My second favorite is Abell 39, a nearly perfectly round PNe. Since then, my one goal in life is to get a nice EAA pic of Abell 39, but it is a tough nut to crack and finding it is quite a chore.
All pictures posted were taken by me and my equipment.
So, on to this month's Challenge:
I will divide this into 3 categories: Easy, moderate and tough. You need not get them all, but kudos if you do. I would recommend at least a 10 inch scope for the last set of tough PNe. You can see the Easy ones and most of the Moderate ones with anything from 60mm to 200mm, however some will require the good ole standby 8" (Celestron and Meade users rejoice!).
In the Easy section we have:
Messier 57, also known as NGC 6720. this beautiful ring shaped PNe is aptly named the Ring Nebula, located in Lyra. It has a nice semi-round appearance, about mag 8.8 and it appears 1.4' x 1.1' in diameter. Easily recognizable as not a star when looked at in the field of view. Upon closer observation, there is a central star, mage 15.1 nearly in the center of the Ring itself. Adjacent to that is another star slightly dimmer at 16.3m and one more star in the Ring periphery is a 15.7 mag star. Most long exposure EAA images will pic out these two other stars. If you get a nice image of the Ring, on one side of the nebula is the galaxy IC1296, a 15.34 mag object that can be seen in your EAA image, if you have the right amount of aperture.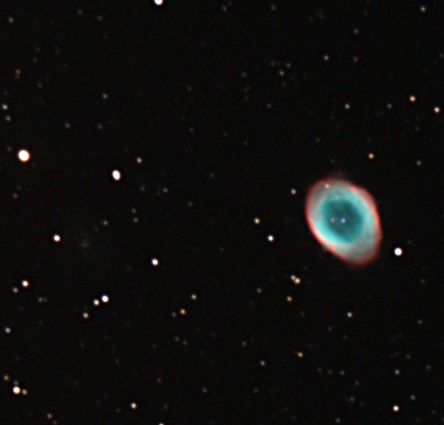 Next up, we have the ever popular Messier 27, NGC 6853, better know as the Dumbell nebula, located in Vulpecula, the Fox. It is a dim constellation East of Cygnus the Swan. To me, it looks like an apple core, one of its other names. This is a huge PNe, almost 8x the size of the Ring nebula. It is mag 7.09 and 8.0' x 5.7' in diameter. When you put the Dumbell in your FOV, it takes up the whole FOV, it's that big! I would recommend at least a UHC filter because of its size, its surface brightness is spread out and can be hard to see if the sky background is too bright.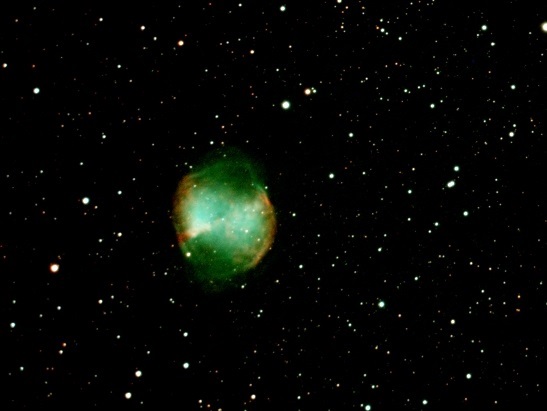 Next, in the Bowl of the Big dipper, we have Messier 97, NGC 3587, known as the Owl nebula. It stands out at mag 9.8 and a size of 3.4' x 3.3', about double the size of M57. It has distinctive voids in the middle of the nebula that resemble Owl eyes, hence the name. This PNe appears very nicely with an OIII filter. Longer imaged EAA pics of it show a light red ring of Ha nebulosity at its periphery. A triangle of 3 stars near one of the eyes, lets you know you have found it. Find it just below and East of Merak outside the bottom of the Bowl. Nearby is the Surfboard galaxy, M108. Wider FOV can grab both the Owl and Surfboard together for a nice pairing!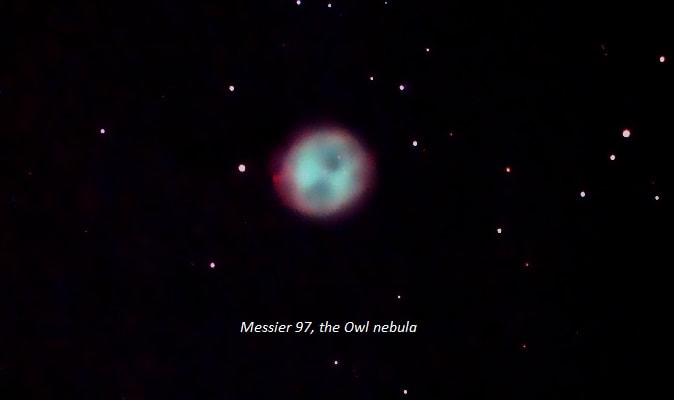 To wrap up the Easy column, we have Messier 76, NGC 650/651, also know as the Little Dumbell nebula Located in Perseus. To me, it looks like a double handled beer stein, with handles on either side. This nice and colorful nebula is mag 10.10 and is 2.7' x 1.8' in diameter. Visually, it looks like a thick bar of nebulosity, but in an EAA image, the handles start to come out and using an OIII filter helps shown them better.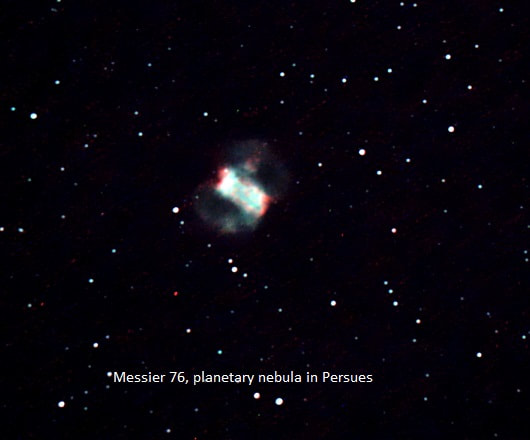 Now for the Moderates. These are a bit of a challenge, but fairly easy to find if you have Goto.
First off we have NGC 6826 in Cygnus. It shines at mag 8.9 and is 2.1' in diameter. Visually, upon inspection, with no filter you can see the star directly and faint nebulosity, using averted vision, the nebulosity pops out, giving this its moniker, the Blinking Planetary. Located in the western section of the bird constellation, it is located near Psi and d Cygni, just outside the FOV of 16 Cygni. This is a nice green tinted PNe. In an OIII filter, it is very round with a central, tilted ring, much like looking at Saturn in the nebula. In EAA images, there is an inner shell, the aforementioned Saturn like ring, followed by a slightly fainter shell and finally a very faint, diaphanous outer ring only seen in very long exposures. The central star is easy to see, shining at mag 10.6.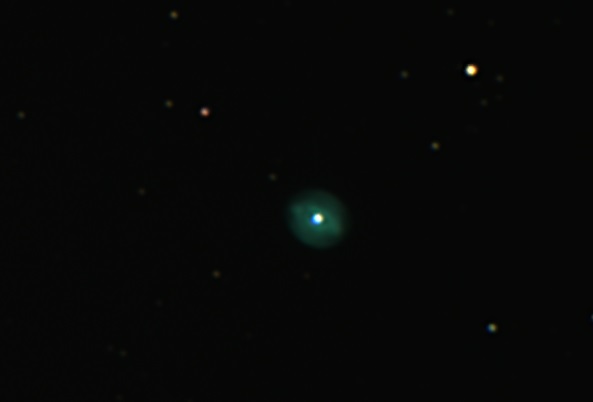 Next, we have NGC 7009, the Saturn nebula. Located in Aquarius, near Psi Aquarius. It's basically in no man's land of the sky with no discernible landmarks. At mag 7.8 and 30" x 24", Small, but it is fairly bright, but it shines best with an OIII filter. Larger scopes can pic out fine detail in the center. At first glance, it looks like an ordinary round PNe, but upon closer inspection and moderate EAA imaging, two rays or Ansae appear on either side of the nebula, giving rise to its name, the Saturn nebula. These rays are quite faint and will either appear with a long EAA exposure or a very large telescope, 10"+.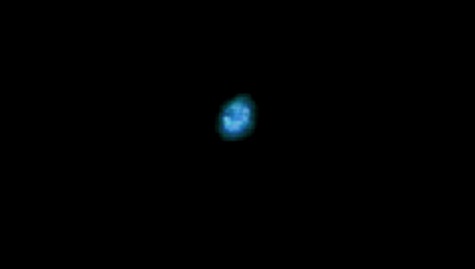 Next is NGC 6302, the Bug nebula in Scorpius. This is a cool looking nebula, looking like a Rhinoceros Beetle. It shines mostly in Ha, but OIII can find just it as well. Listed at 9.89 mag and 1.4' x 0.4'. it is roughly the size of M57, but of an unusual shape. You must have a clear horizon to see it, it resides in the basement of Scorpius, about halfway between Shaula/Lesath in the tail and Mu 1 and Mu 2 in the torso of the Scorpion. From my location near Boston, MA it nearly hugs the horizon, maybe 6-7 degrees above it, in the thickest part of the atmosphere. But finding it and EAA observing it is quite a treat!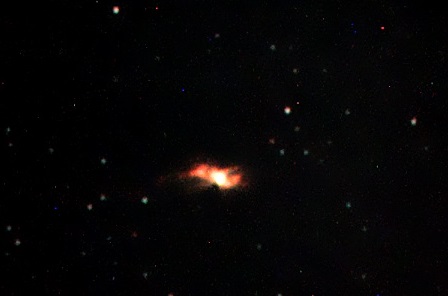 Lastly, in the Moderate column, we have NGC 6818, the Little Gem in Sagittarius. Also located in the no mans land of Sagittarius, it is also near Barnard's galaxy. This planetary nebula is quite small, at mag 9.39 and 0.4' x 0.2' in diameter. But because of its compactness, it is quite bright and easy to find using an OIII filter. It really pops out from the background stars in EAA. The central detail is quite mottled, appearing like a jumbled mess inside the nebula itself. The central star appears as a tiny blue dot.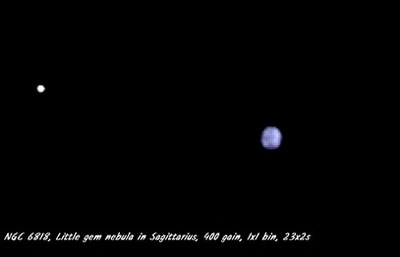 Now for the Tough stuff. Gird your loins, we take a gander at some less well known planetary nebula that I have enjoyed finding and EAA imaging.
First up is the Tiny Ring nebula in Lyra, known as Minkowski 1-64. it is located not too far away from M57, in the western middle of the Box of the Lyre. This PNe is mag 12.89 and about 0.3 arc minutes in diameter. Once you spot it, it appears like a tiny version of the Ring nebula. It is nearly touching a nearby star, so you can't miss it. Using Goto is almost a must to find it. I have EAA imaged it and found it has some similar color to the Ring nebula.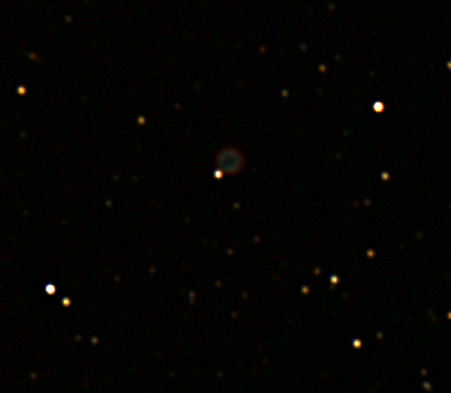 Next up is the Full Moon nebula, NGC 6781. This nebula resides in Aquila, at mag 11.6 and an almost perfect round size of 1.9' x 1.8'. You can find it just 2.5 degrees north of the star 22 Aquila.This nebula shines in Ha light, but the central portion glows in OIII. EAA imaging shows both a red and green color to the structure. A nice addition to any PNe collection.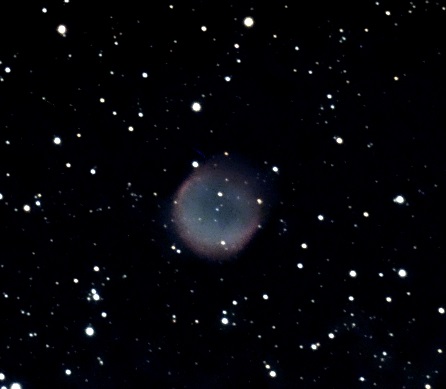 Next we have NGC 7008, better known as the Fetus nebula. To me, it looks like someone's ear. But long EAA exposures will show what looks like a Fetus inside a womb. This nebula is mag 11.0 and appears 1.6' x 1.2 in diameter. This PNe glows mostly in OIII. A long EAA exposure will show some nice detail and what looks like puffiness in the contour of the nebula's shape. This nebula is located north of the more famous North American nebula, but in a less populated part of the eastern portion of the constellation of Cygnus.
Lastly we have NGC 6894, what I like to call the Donut nebula. It literally looks like a cosmic donut. In color, it appears brownish. Located in Cygnus, near the border with Vulpecula, near the stars 41 and 39 Cygnus. This PNe is mag 12.5 and 0.7 in diameter. It is fairly small, but shows up nicely in EAA exposures. It has a noticeable, but fainter central star and touches a nearby star near one side.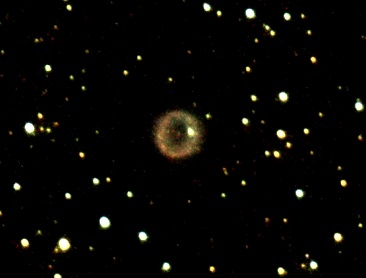 So now for some real challenges. These are for the diehards only and trust me, will test your patience.
In no particular order: Abell 39, known as the most perfect circular PNe in the sky. It has a diaphanous middle and a well pronounced ring of nebulosity. But don't be fooled, this is one tough PNe to track down. Located in Hercules, it shines at mag 12.89, but at 2.8' in diameter, it surface brightness glows at about mag 15.5. It is rather faint and tough to EAA image. I have tried in vain to see this in EAA and might have a pic somewhere of my nearly wasted effort.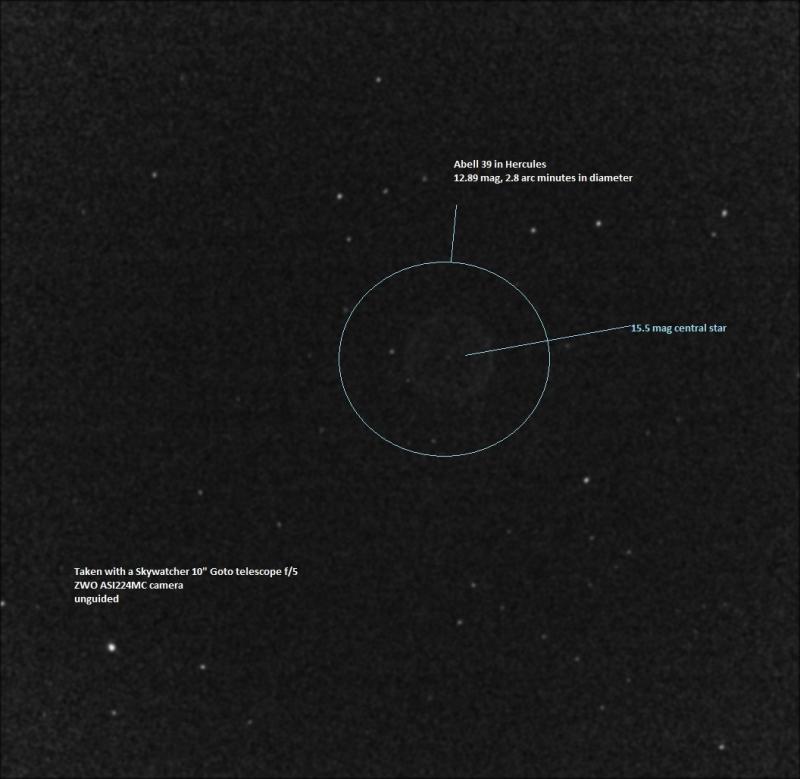 Minkowski 4-17, located in Cygnus. This one appears nearly identical to M57, albeit at a smaller and fainter size. Listed at mag 14.6 and only 0.4 x 0.3 in diameter. This looks like a miniature version of M57. It shows some color as well. It is flanked by two stars, one on either side of its ring. This is located just west of the star Sadr in Cygnus.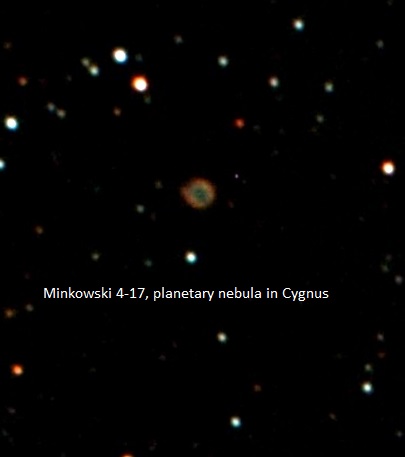 I hope you enjoy my monthly challenge. I have tried out all the other challenges and many were tough to finish. I hope my list makes a good impression.
P.S. I recently bought my last and biggest telescope, the Orion XX14g Goto Dobsonian and it arrived on Wednesday. I used it to EAA image M57, NGC 6826 and Minkowski 1-64.
Edited by Stargazer3236, 01 August 2021 - 07:07 AM.