hi all,
last night I could observe a nice rendevous

:
1.8.2021, 23:10 UT, a field near by Bult/Scheeßel, the moon stood deep behind a line of trees.
I got my 12" f/4 Dobson and my Tele Vue Delite serie.
At first a spotted Saturn, he is now in oppositon. In higher places I splitted the double double pairs epsilon Lyr with 397x.
What a nice "Lehrbuch" image with this stable seeing !
At 23:35 UT the clouds gave Jupiter free. The seeing was ok for this deep position.
With 132x I saw an irrgulare roundish moon(pair). I powered up to 170x with the 7mm eyepiece.
Now the dark Callisto looks round, but the brighter smaller Io was round too with a lot of seeing blurry around.
Then the show begins, Jupiter rise d higher and the seeing was better.
I took different eyepieces. The 3 and 4mm was to much 298x, 397x. But in still moments a saw the pair.
Best compromise was the 5mm with 238x. In the time till 00:40 UT I saw the moving between the too moons, It looked like a walk under the dark sky ...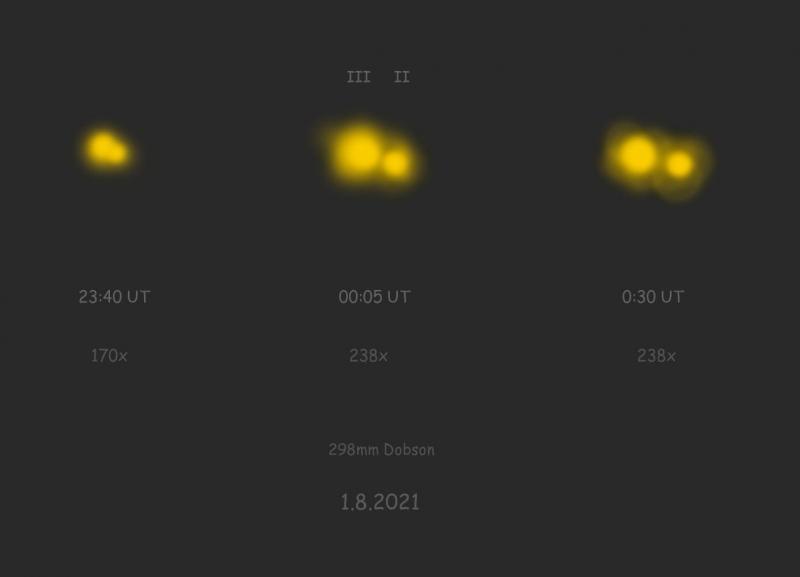 On Jupiter I saw a lot of details with my crisp Astroreflect mirror !
I took 170x and 238x. Jupiter stood 24° high.
Why produced Al nagler not a 6mm eyepiece ??? With 200x it will be the best image in this night ( in the older Radian serie he spended a 6mm ...)
CS
Christian
Edited by Heidescoper, 02 August 2021 - 04:34 AM.