Player One Astrophotography Competition Round 5 IS COMMING!
This is a series competition in every month, each of which will have a theme. Saturn and Jupiter opposition is in August! Wow, it's the best oppotunity to shoot them in this year! Let's back to planetary imaging!
The theme of Round 5 : Opposition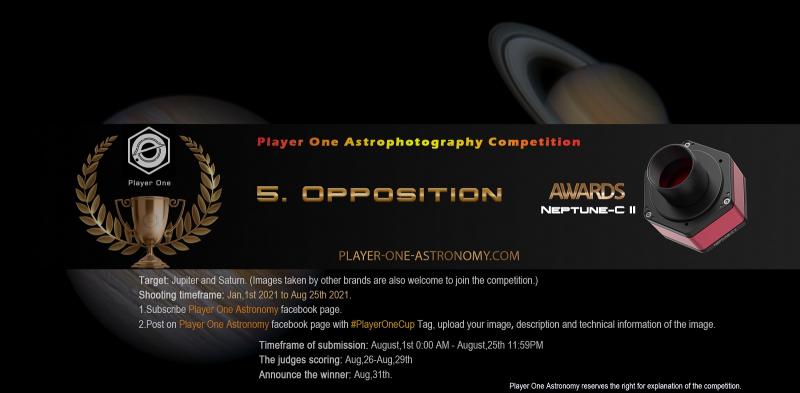 Award: Neptune-C II camera (IMX464, Price 329USD)
Product info : https://player-one-a...-camera-imx464/
Target: Jupiter and Saturn. Maybe put them together will be better. (Images taken by other brands are also welcome to join the competition. Images from commecial remote observatory is forbiden.)
Shooting timeframe: Jan,1st 2021 to August, 25th 2021.
Rules:
1.Subscribe https://www.facebook...yerOneAstronomy facebook page.
2.Post on https://www.facebook...yerOneAstronomy facebook page with #PlayerOneCup Tag, upload your image,description and technical information of the image.
Timeframe of submission: Aug,1st 0:00 AM - Aug,25th 11:59PM
The judges scoring: Aug,26th - Aug,30th
Announce the winner: Aug,31th.
(All thoes timeframe according to Time Zone: +0800.
Free for shipping and export fees, winner need to pay import customs and tax fees)
Edited by Player One Astronomy, 05 August 2021 - 05:53 AM.